Features: Photo Encounters | Forum
Disclaimer | FAQ | 12 visitors online.

Contact Us: Deenan | Lucy | Brenda

Skins: Faces | Raindrops | Spring Clean








FOLLOW A&F ON TWITTER


October 9, 2015
:: Well, I survived my first time at Fantastic Fest in Austin and it was just that. Fantastic! I saw lots of great movies, had great times and met great people. Rebecca! I met Tim League and Zoe Bell, bumped into Charlie Kaufman, Guillemo del Toro and Zach Cowie and chatted with Elijah himself and his brother Zach. It was an absolute blast and I plan to head back next year. But enough about that. Click on the image below to view some photos from the festival.





:: Here are a few videos recapping parts of the festival where you can see Elijah participating in some of the events. Fantastic Debates, Wooden Wisdom Turkish Bizarre and Fantastic Feud.

:: Just after the festival, Elijah jetted off to London for a couple days to promote Cooties which will be released on DVD/Blu-ray in the U.K. next week. (Blu-ray is region free) You can check out some images here.

:: Promotions means interviews so here are a couple from Lorraine and audio from Radio X. Check out a short clip from that interview.

:: Now that promotions for Cooties is taking a breather, it's time to gear up for The Last Witch Hunter which is in theaters across the globe starting October 21st. (October 23rd in U.S.) It's kicking off with appearances by the cast and director at the New York Comic Con tomorrow.

:: Here are a couple of videos for the film. Elijah on Dolan the 37th, behind the scenes (no audio) and a great print interview given by Elijah which contains spoilers.

:: Live near Chicago? Lionsgate is holding a Halloween party for The Last Witch Hunter.

:: Twitter and Elijah conducted a Q&A this week. You can read the whole rundown if you missed it or just want to relive it.

:: Lastly, Elijah is scheduled to appear on The Late Show with Stephen Colbert October 13th. You can also catch Vin Diesel on The Tonight Show with Jimmy Fallon October 14th and Live with Kelly and Michael October 20th.

:: Thanks to Ambree, Misty and all the wonderful folks at Fantastic Fest!

That's all... for now.


Deenan
September 22, 2015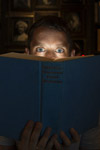 :: Cooties, Cooties everywhere! With the release of the killer kid movie this past weekend, Elijah and the cast have been on a rampage with promotions. I've snagged some images and screencaps of the most recent apperances and interviews.

:: As I stated, there's been a lot of talk about Cooties, so here are just a few of the videos. Late Night with Seth Meyers, The Today Show, The View, Good Day Sacramento, CT Style, Screen Rant, AOL Build, Leigh Whannell on Huffington Post, The Nerdist and a behind the scenes B-Roll video.

:: If that wasn't enough, there's more for you. Check out these extras too. SpectreVision on IndieWire, SiriusXM a print interview on relating to child actors and ETC Podcast with some caps. [1] [2] [3] [4]

:: So with all this talk, how is Cooties? Fantastic! I watched it this past weekend and I couldn't stop smiling. What a wonderfully funny movie. But don't take my word for it. Here is a page of reviews from others who thinks the same. There's also some new images posted on the movie stills page.

:: Until the movie is available for home viewing, you can get your hands on the soundtrack for Cooties.

:: Though it may seem like it, this update is not all Cooties. Fans couldn't be more excited that Over the Garden Wall and Tome of the Unknown won Emmys for Outstanding Animated Program and Individual Achievement in Animation beating out other long running shows. They are well deserved wins and this article explains just why. Congratulations to all involved! BTW, the "For Sara" audio cassette tape sold out... but I got mine!

:: It won't be long before another onslaught of movie promotions start up; this time with The Last Witch Hunter. Its gears are turning with a second trailer. There are some new high res images and the announcement that the cast will be on hand at the New York Comic Con next month!

:: Elijah flexed his movie muscles and took part in the Movie Fights. [1] [2] [3] How did he fair in the match? Check it out!

:: Finally, I'm heading off to Austin tomorrow for my very first Fantastic Fest and I couldn't be more excited! I don't know what goodies I'll bring back but I know I'll bring back plenty!

:: Thanks for the finds Ambree, Misty and Rakshi.

That's all... for now.


Deenan
September 7, 2015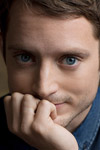 :: Wooden Wisdom is wrapping up their deejaying tour overseas and two pages of pictures are available for viewing.

:: There are several video interviews and a podcast conducted while on tour. Press conference, NDTV, IBN Live, In Germany, YLE UUTISET and Basso podcast.

:: Here's another rather lengthy but wonderful podcast for The Nerdist which starts 4:05 in.

:: BIG congratulations to Set Fire to the Stars for leading the pack with seven nominations including Best Feature in this year's BAFTA CYMRU Awards (Wales division). The ceremony takes place on September 27th. Good Luck!

:: The partners of SpectreVision will be on hand at Fantastic Fest later this month as the keynote speakers at the Fantastic Market.

:: Better beware. Elijah brings an important message.

:: The inset photo is just one from a shoot for Empire Magazine last year. It's a shame they just came to be known, but at least we have them now. Curious to the images, I stumbled on two more photos I've never seen from 2011's promotion for Happy Feet 2 taken with Robin Williams. [1] [2]

:: Don't forget the Emmy nominated Over The Garden Wall is released on DVD tomorrow. Get your copy and see why it's been so widely honored.

:: Again, thanks to those taking photos and video overseas and to Ambree and Misty for bringing the news home.

That's all... for now.


Deenan
August 24, 2015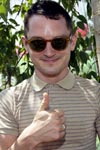 :: Wooden Wisdom's latest tour is going on even as I type. One of the first things Elijah took part in was planting a tree for the International EXPO 2016. There have been other photos floating around from their visit to Turkey. More countries are scheduled in the coming weeks so keep watch on that tour page.

:: Before Elijah trekked over the Atlantic, he sat down with Cooties co-stars for some interviews. Dread Central, ET Canada. Here are a couple of photos. [1] [2]

:: Cooties is still gaining positive buzz and lands on the must see, most anticipated films for the fall.

:: The film is also set to open this year's SpectrFest.

:: Out on VOD now, The Boy is still racking up some great reviews. IndieWire, Crome Yellow and The New York Times.

:: Bridging the two films, check out this interview from Rainn Wilson who stars in both films.

:: Over the Garden Wall has put out its list of features on the upcoming DVD out September 8th.

:: Though it wasn't in a theater, I got to see Set Fire to the Stars and posted my review here. Check out this interview and audio in June from Elijah about the movie.

:: Thank you Ambree, Misty and all the folks taking photos overseas.

That's all... for now.


Deenan
August 9, 2015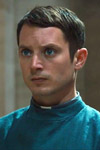 :: The official trailer for The Last Witch Hunter is out and it looks like the perfect start to a series of films. Also, check out a few screencaps.

:: Elijah has contributed to the opening narration for a short animated virtual reality movie. Take a peek at Henry.

:: In about a month Wooden Wisdom will be taking their first deejaying trip to India.

:: The Boy will screen in Los Angeles this Friday and the SpectreVision guys along with the star will be there for a discussion.

:: Could this be a rough draft teaser poster for The Trust?

:: Tomorrow, Elijah will take part in another Reddit session. You can go here to submit a question.

:: Thanks again Ambree!

That's all... for now.


Deenan
July 20, 2015
:: There's a lot going on in this update thanks mostly to San Diego's Comic Con. Click on the image below to check out two pages of photos from the event.





:: Then there were interviews, panels and podcasts. Lots of them!
Appearance on Conan O'Brien [Clip 1] [Clip 2] [Clip 3] [Clip 4]
Nerd HQ Panel
Nerdist Panel
IGN Live
Clevver Movies
Collider
IMDb
Entertainment Weekly Podcast (Scroll the list for two)
Short clip of Elijah signing autographs.
Wochit on Witches. If that interested you, Elijah provided to me on Twitter a fascinating theory about witches riding brooms.

:: A new clip from Cooties was shown at the convention.

:: Not to be outdone, a couple of new posters for The Last Witch Hunter were revealed [1] [2] as well as their official site, The Axe + Cross where sections are forthcoming. If you adventure in, you'll find this image and information on the role of Dolan.

:: A hearty congratulations to Over the Garden Wall for their Emmy nomination for Outstanding Animated Program! They also walked away with the people's choice for Best Voice Ensemble in the BTVA Awards. And it's just been announced the series will be available on DVD September 8th in the US and Canada. By the way, the Emmy nod is for the entire series, not just a single episode like the others in the category. That in itself says plenty!

:: Check out the offcial trailer for The Boy.

:: Wooden Wisdom was at it again. This time in Toronto at Atomic Lollipop. Here are some fan photos from the festival.

:: If you're among the unlucky folks (like me) who didn't get to see it in theaters, get ready to order your copy of Set Fire to the Stars which will be available tomorrow, July 21st.

:: You can help Set Fire to the Stars by "Internationalizing it" with a donation. Check out this site to find out how, receive some exclusive swag and see a new clip from the movie.

:: Finally, Director Braxton Pope posted a new image of post production work on The Trust.

:: Lots of thanks to all those fans taking photos and videos and as always to Ambree!

That's all... for now.


Deenan
July 7, 2015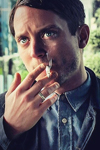 :: San Diego Comic Con starts this week and Elijah will be there. Tomorrow night, July 8th, Elijah will appear on Conan O'Brien which will broadcast from the convention. There's also word of a surprise cast appearing on the show Saturday, July 11th which could be those from The Last Witch Hunter. We'll have to wait and see.

:: Elijah is set to screen SpectreVision's horror comedy Cooties during Conival.

:: A panel discussing contemporay horror films will take place during the convention and Elijah will be among the panelist.

:: What would Comic Con be without some music thrown in? Wooden Wisdom will DJ at Bang Bang tomorrow night.

:: Check out this pseudo impromptu interview from Wooden Wisdom at SXSW earlier this year.

:: Cooties will make its way to one of Elijah's favorite venues, The Sitges International Film Festival in October. Check out their teaser trailer.

:: Lastly, right on the heels of Elijah's nomination for his work in the animated mini series Over The Garden Wall, I had pieced together this video of the many characters he has lent his voice talents to. BTW, we'll find out how Elijah and the show fared in the voting sometime today.

:: Thanks again Ambree and Misty!

That's all... for now.


Deenan