Features: Photo Encounters | Forum
Disclaimer | FAQ | 11 visitors online.

Contact Us: Deenan | Lucy | Brenda

Skins: Spring Clean | Faces | Raindrops








FOLLOW A&F ON TWITTER

WILFRED PILOT REVIEW "HAPPINESS" (2011)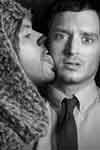 Ryan Newman


A Man's Best Friend


Before I get to my review, I'd like to say it's an extreme honor to have the opportunity to watch and review the pilot episode of Wilfred. Always and Forever was chosen with online critics for a sneak peak at the rough cut; the very pilot that lead FX Networks to pick up the half hour sitcom for 13 episodes with the premiere on Thursday, June 23rd at 10:00 PM. After viewing this pilot, I know exactly why FX chose to add it to its lineup. It's absolutely hilarious!

From someone who is paid to do this, James Hibberd from Entertainment Weekly has called Wilfred the funniest pilot he's seen since Modern Family and I have to agree.

FX being an innovative network has chosen for American audiences a brash Australian sitcom that stars the original actor, Jason Gann in the title role. Joining him is our very own Elijah Wood as Ryan, a man so bent out of shape he feels there's no way out so he tries to commit suicide and he can't even do that right. Fiona Gubelmann plays Jenna, the new girl next door and Wilfred's owner. Dorian Brown who portrays Ryan's uptight sister, Kristen, completes the leading cast.

Wilfred is set in a quaint community in Los Angeles California. The audience follows along through Ryan's disillusioned eyes as he tries to get a grip on reality. Trotting into a pivotal point in his life is a dog. Everyone else sees a cute, lovable pooch but Ryan sees a man in a dog costume.

Both man and beast are leery but Wilfred settles in and Ryan has to get over his shock to accept the fact he has. Ryan walks, feeds and runs after Wilfred like any rambunctious pet. When others come into the scene, the audience and Ryan are jolted to the fact that Wilfred is not a man but a dog. It's in these instances that takes Ryan on a new level of hysteria and makes for humorous circumstances.

On my first viewing of the pilot, my own dog was laying beside me and I laughed so loudly and so often, I scared the poor girl. It made me wonder what she may have said to me in those moments.

Wilfred may not fit everyones tastes but for me... someone who isn't bothered in the least by profanity and yes, sometimes vulgar humor will enjoy Wilfred immensely. I believe this is because the crudeness is smoothed over by wit.

The acting is sharp and cunning and in Wilfred's case, his bite is worse than his bark. Other than talking, drinking and getting high, Wilfred behaves like any dog. Not to be cliche but Jason wears the dog suit perfectly. He's lovable and sweet though more times impetuous and you feel he needs the sting of a rolled up newspaper but he turns around and gives lessons and shares his wisdom that Ryan can take to heart.

For those who have some reservations about Elijah's comedic talents, you can put them to rest. It's not that he's setting out to be humorous, but is simply reacting to odd and perplexing situations and those lead to some hysterical moments. I'd put this in the category of funny man, straight man and it's Elijah's strong ability to give emotions to his characters without saying much at all that makes him perfect for this bewildered individual.

Lovely Fiona Gubelmann brings an air of lightheartedness to the show's gritty premise and sassy Dorian Brown's pretentious older sister will undoubtedly bring further mayhem with her intimidation. The timing during collective dialogs between the characters is amusing and a testament to the smart, creative and imaginative writing.

The cinematography is ingenious that when Ryan drifts inside of himself, things around him diminish but only enough where he's still within the realm of his surroundings. The whimsical music and sound editing co-exists perfectly with the camera work which emphasizes the psychosis running amok in Ryan's mind. Wilfred not only tickled my funny bone but my senses as well.

In the end, the question remains who's the man and who's the best friend? Perhaps at some point that will be known but until then, Wilfred should be entertaining and an adventure to find out.