Features: Photo Encounters | Forum
FAQ | Disclaimer | 18 visitors online.

Contact Us: Deenan | Lucy | Brenda

Skins: Faces | Raindrops | Spring Clean








FOLLOW A&F ON TWITTER

The Look: Mr Elijah Wood
Interviewed by Mr. Porter (Online shopping guide for men)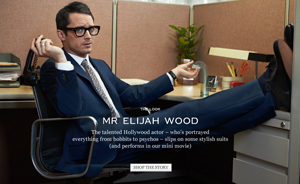 Suit by Alexander McQueen | Shirt by Burberry London | Tie by Marwood | Shoes by Church's | Socks by Falke | Glasses by Cutler and Gross | Watch by Junghans x Max Bill |


When it comes to cinema, Mr Elijah Wood, 32, is a card-carrying internationalist. "Predominantly, the movies that I love the most these days are being made in Europe or Mexico or Asia," he tells MR PORTER over coffee, on a clinically bright Los Angeles morning. "A fair amount of incredible film-makers have come out of Spain in the past five to 10 years. I just worked with two Spanish film-makers on their English-language debuts [Mr Eugenio Mira, Grand Piano; and Mr Nacho Vigalondo, Open Windows]. And I was recently in Japan, talking to some film buyers there. There are some incredible film-makers in Japan too."

We're at a French café near Venice Beach, a suitably cosmopolitan venue given Mr Wood's love of the unusual and the foreign. Fresh from trips to the Far East and the Iberian Peninsula, the actor who cemented his legend with the Lord of the Rings movies (shot in New Zealand) holds strong claims to world citizen status. He's a resident Angeleno who has extended his horizons beyond Hollywood in all directions. Resisting the temptation to rest on his mainstream Middle-Earthen laurels, Mr Wood has embraced global film culture by pursuing a diverse slate of projects in multiple countries, as both an actor and producer.

Speaking of his current involvement in a movie from that most visceral and controversial of sub-genres - gore - he says, "The thing about this particular Maniac is that it's a stylised version of the original." He plays the mother-fixated psycho in a remake of the 1980 grindhouse landmark. The new Maniac is directed by Mr Franck Khalfoun, who rings the changes by making explicit an admiration of Italian giallo legend Mr Dario Argento - one of splatter cinema's most revered stylists - and shoots the entire movie from the killer's point of view.

"The original had its own sense of style I think, but it was pretty dirty. I wouldn't even classify it as a B-movie," says Mr Wood. "I'm not a huge fan of remakes, especially horror film remakes. But I was intrigued by this. What resulted was far more stylistic and beautiful than I had anticipated. It was initially pitched to me as: you'll play the killer, and you'll only be seen in reflections. So interesting. And each sequence effectively is a single shot, so every scene became this puzzle of trying to figure out how I was involved, where the camera moved. It was like a dance."

Cinematic horror, it turns out, is no casual dalliance for Mr Wood, who has just established The Woodshed, a production company that is specific to the genre. "We go into production on our first film this Friday: it's called A Girl Walks Home Alone at Night and it's an Iranian vampire Western, shot in black and white, entirely in Farsi." Also on The Woodshed's slate is Cooties, the product of an unlikely script collaboration between Messrs Leigh Whannell (Saw) and Ian Brennan (Glee). "It's a horror comedy about a zombie-like affliction that affects kids at school."

Throughout our chat, Mr Wood is enthusiastic and engaging, apparently relishing the freedom to hatch an assortment of creative plans on the back of his success with the Rings movies. He looks like a man at ease with himself, and this comes across in a relaxed approach to personal style that walks the line between knowingly unforced and truly unconcerned. "Yeah, I suppose fashion is a part of my life. Not in any kind of major way. I think everybody has a costume - I'm pretty simple. I just like things that are relatively classic and timeless."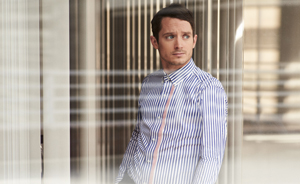 Suit by Dolce & Gabbana | Shirt by Gucci |




He reveals that he doesn't go shopping often, but made an exception during his recent visit to Japan. "For me, fit has everything to do with it. In Japan, every single thing I put on would fit, which just does not happen in the US. I kind of went a little crazy. It's nice to go into a store, see something I like and go, 'That will fit'. It was awesome. Japan's a great place to shop."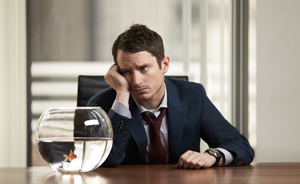 Suit by Alexander McQueen | Shirt by Canali | Tie by Drake's | Watch by Timex x J. Crew | T-shirt by Sunspel |


How about shopping online? "I checked out MR PORTER for the first time recently. It's pretty amazing. The selection of designers is probably the largest I have ever seen from any one source, from new up-and-coming designers to really established lines. Very cool."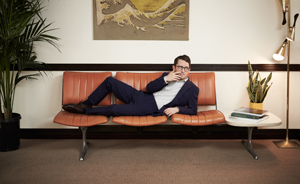 Suit by Paul Smith | Shirt by Richard James | Shoes by John Lobb | Socks by Falke | Glasses by Thom Browne |





Suit and Tie by Richard James | Shirt by Brioni |




The thing that links all of Mr Wood's exploits and interests is his willingness to take in the big picture, an approach that also surfaces on the sidelines of his career, in music. "I listen to everything. Some of the labels that I most love now are primarily reissue labels, such as Now-Again Records, Finders Keepers out of the UK, and Light in the Attic Records - they do full reissues of specific albums but they also put out really wonderful compilations of world and psychedelic music."

Simian Records, the music label Mr Wood founded in 2005 is "sort of in flux at the moment", while he DJs on occasion (vinyl rather than digital - "it's far more satisfying") and is thinking about setting up his own reissue project. "I spend more time digging back than I do looking into what's happening currently. I find it more gratifying - I think it's harder now to find really great records that you fall in love with. It's far easier to find something from the past that blows your mind."

This antique disposition also surfaces in Mr Wood's love of Los Angeles architecture. He recently campaigned to save a 51-year-old taco stand from the wrecking ball - "we have so little history as it is in Los Angeles and I think it's really important that we preserve it" - and cites City Hall and the 2nd Street Tunnel as favourite local structures. From turn-of-the-century craftsman homes in Pasadena, the Victorian mansions of Angelino Heights and the now-rased neighbourhood of Bunker Hill, preserved only as a film noir memory in movies such as Kiss Me Deadly and Criss Cross, he's an admirer of them all.

"There was actually a building here in Venice, a very small craftsman bungalow. Ray Bradbury had lived there when he was writing The Martian Chronicles. The new owners tore it down. It broke my heart."

Mr Wood takes a last, wistful sip of coffee.

"But I feel as if the tide is changing. I feel as if people are more aware of our history, and what little of it we have left."

And with that he's off, bags packed, ready to carve out some history of his own.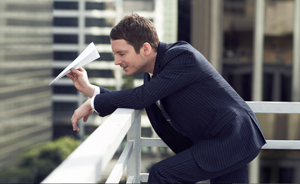 Suit by Gant Rugger | Shirt by Burberry London | Tie by Turnbull & Asser | Tie clip by Lanvin |