Features: Photo Encounters | Forum
FAQ | Disclaimer | 12 visitors online.

Contact Us: Deenan | Lucy | Brenda

Skins: Faces | Raindrops | Spring Clean








FOLLOW A&F ON TWITTER

TRY SEVENTEEN/ALL I WANT (2002)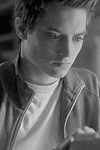 Jones Dillon



Also titled "Try Seventeen," I guess I can understand why someone went ahead and changed the name. Heaven forbid a movie title that suggests someone might want to have sex with somebody under the age of 18. That would just be unheard of, especially considering the number of teenage pregnancies these days. Rather than face the problem, we'll just pretend it's not happening and maybe it'll go away. Then too, I could be way off base about the change in title. I doubt it, but it could happen. Fortunately, whatever the name of this film, the work still speaks for itself.

Seventeen-year-old Jones (Elijah Wood) arrives at college to begin his freshman year (a year early apparently), only it's not what he expected. His roommate only listens to SKA music and the place just isn't very inviting. In light of this, Jones pulls his trunk behind him and heads off to rent a room at a local boarding house. It's there that he meets another odd group of people, but a good kind of odd. There's local gay artist and mechanic Brad (Aaron Pearl), borderline selfish actress wannabe Lisa (Mandy Moore) and the slightly older and definitely chillier Jane (Franka Potente).

While Jones continues to write letters to a father he never knew and can't locate because his mother (Elizabeth Perkins, also portrayed his mother in "Avalon") won't share any information, he soon becomes the object of curiosity with each of the new people in his life. The local used furniture sales woman (Deborah Harry) offers to show Jones the ropes in bed and Lisa wants a meaningless night of heavy panting, only it's Jane who captures his interest. When the two are in a car accident together and Jane must spend some time in the hospital, Jones discovers he's now competing for her attention when her old boyfriend shows up. Will Jones finally learn the meaning of love while losing his virginity or are there only painful lessons in life?

All I Want is a sweet little film with a great cast. There are just enough quirky moments to keep audiences interested and amused and the writing is surprisingly sharp at times. Despite all of this, it's not a mainstream film and Director Jeffrey Porter (The Liar's Club) doesn't mind a disjointed approach to the editing, style or story. Just when viewers are slightly jolted out of the movie, something happens that brings them right back in. For some odd reason, it works. Aside from Wood's big blue eyes taking center stage, Franka Potente once again shows her wonderful range as an actress and proves yet again that we can continue to expect great things from her.

This film didn't have a wide release, but it made the film festival circuit, then disappeared until its release on home video. Fans of Wood, Moore and Potente will probably be the first ones to check this film out, but I think a wider audience has yet to discover this little gem. Hopefully they will. I enjoyed this one, minor flaws and all.





********




Genial and quirky, "Try Seventeen" is a character-driven comedy about a young man (Elijah Wood) striking out on his own, who meets an extended family of rooming-house oddballs, and must ultimately choose between two women among them, one mysterious, the other sweet. Pic's modest ambitions and execution will result in modest yields, with decent ancillary.

Arriving for his first day of college at a Kansas university and dragging a huge steamer trunk, wide-eyed 17-year-old Jones Dillon (Wood, decisively distancing himself from his "Lord of the Rings") spends about five minutes with his Ska-loving skinhead roommate before deciding private lodgings might be more suited to his sensitive temperament. (Dillon has an active fantasy life, imagining revenge on cruel strangers and a series of servile and exotic women.) He moves into the sprawling boarding house and is soon dividing his attentions between sweet aspiring actress Lisa (Mandy Moore) and mysterious photographer Jane (Franka Potente). The house's other tenant is Brad (Aaron Pearl), a hotpants-wearing artist who's fond of six-shooters.

What's most on Dillon's mind is losing his virginity. Title of pic comes from his response to Brad, who confides that he hasn't had sex in three years. As all this transpires, Dillon carries on a series of contentious phone calls with his hard-drinking Texan mother Blanche (Elizabeth Perkins, who previously played 8-year-old Wood's mom in "Avalon"). She refuses to reveal to her son the identity of his father, to whom Dillon writes long letters that end up in the steamer trunk.

Debuting helmer Jeffrey Porter has pointed to "The Graduate" as an inspiration for his treatment of Charles Kephart's script, but there's little, if any, social conscience on display, nor does the story build to a clear statement on contempo mores. In the end, the quirky vignettes don't add up to anything except a collection of quirky vignettes, rendering pic a pleasant date movie sans resonance.

Wood's natural physical qualities serve his character well, and there's genuine chemistry between him and Potente. Young chanteuse Moore holds her own with the vets, and Pearl is a hoot as the uber-eccentric Brad. Had the script given her more to do after the first couple of reels, Harry might have turned Ma into a gothic vamp.