Features: Photo Encounters | Forum
FAQ | Disclaimer | 20 visitors online.

Contact Us: Deenan | Lucy | Brenda

Skins: Faces | Raindrops | Spring Clean








FOLLOW A&F ON TWITTER

PARIS JE T'AIME (2006)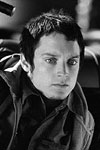 David



This is a very French cinematic concept, sometimes charming, sometimes obtuse, sometimes irritating and often risky - just like the French themselves, although the directors are not all French. Indeed, most are not, and some are making films in English, others in French. Some in both.

The first story, by Bruno Podalyd's, is set in Montmartre, and is a fine example of a short: a lonely man parks his car in a busy, narrow side street, contemplating his loneliness in a conversation with himself, while watching passers by. One woman faints beside his car, and he jumps out to assist. She's soon recovering in the back seat, and he's offering her a lift to her destination. This cameo works well as a typical Paris story, complete with its anti-hero and warmly engaging female. It's one of the best.

The film ends in the 14th arrondissement, from Alexander Payne, as a middle aged American female tourist narrates her story in (horribly accented) French she has just learnt. It is amusing and moving, a humanistic insight.

Between the top and the tail, there are shorts of varying success, but the producers' claim that these all revolve around the theme of romance is not always evident. Not that this matters, but don't expect 18 love stories. Christopher Doyle, for example, is amusingly bizarre in his chaotic style; Tom Tykwer surprises us with a blind boy meets actress girl story of unusual resonances; Wes Craven surprises us by taking us to a cemetery but not inside the graves; and Vincenzo Natali does surprising things with and to a young man (Elijah Wood) who comes across a vampire one night in cobbled backstreets.

It's an interesting experiment and showcases some great talent unhindered by normal commercial constraints.





********





Fragmented and inconsistent by definition, omnibus movies will always meet with mixed reactions. 1989's New York Stories bore fruit for Woody Allen and Martin Scorsese but saw Francis Coppola pelted with rotten tomatoes. More recently, Grindhouse finds both Quentin Tarantino and Robert Rodriguez trying to erase the memories of the condemned Four Rooms, but only QT's half is receiving plaudits.

With eighteen tales to tell, Paris je t´┐Żaime is more ambitious than most and could well have become a case of too many cooks. Thankfully, the strong segments outnumber the weak.

One way or the other, each story is about love: lost or found, craved or shunned, coming or going, natural or, in one instance, supernatural. And unsurprisingly, the tales cover a spectrum of tones and styles.

At the melancholy end, a Mexican nanny (Catalina Sandino Moreno) is sent on a brief, ironic journey by Walter Motorcycle Diaries Salles; despair falls upon a husband about to leave his wife (Miranda Richardson); and most tragic of all - a Nigerian immigrant is laid low after simply following his heart.

Hope springs from Gurindha Chadha's interracial romance, as well as the dreamlike epiphany for grieving mother Juliette Binoche, and the play-acting between boredly-weds Bob Hoskins and Fanny Ardant (though divorcing couple Ben Gazzara and Gena Rowlands have moved on to younger models). Tom Tykwer and Alexander Payne hardly stretch themselves, with Natalie Portman's aspiring actress proving that love is blind in the former's retread of Run Lola Run and the latter simply doing a gender-flip of About Schmidt.

Smiles come from a playful meeting of mimes in Sylvain Chomet's Eiffel trifle, and the Coens giving tourist Steve Buscemi a typically sharp and quirky lesson in Parisian culture on the Metro. There are surprises, too. Cuaron's one-take effort featuring Nick Nolte and a younger woman (Ludovine Seigner) doesn't go where you expect, and Elijah Wood appears in an episode ripped straight from the pages of Sin City. Duff notes include the arty Oriental nonsense from Christopher Doyle, Wes Craven's irritating cemetery set-to for Emily Mortimer and Rufus Sewell, and an uninspired gay flirtation from Gus Van Sant.

Ultimately it's all a matter of taste. A meal of hors d'oeuvres is never going to be completely satisfying, but even the most picky eaters should find something they like. Bon appetit.





********





Paris, je t'aime is a cinematic buffet of love and its bittersweet permutations set within a dreamy travelogue of its most representative city, Paris. Like walking through a museum with numerous artworks to selectively admire, this omnibus film collates 18 different vignettes that delineate the city of love through the distinct visions of an assortment of accomplished directors. That also means that this review of the work may read a little like a friendly travel guide and that individual tastes will vary as to which segments are worth writing home about.

The movie does sometimes feel like an overstuffed experimental film and inevitably some segments feel more self-contained than others. But that uneven quality enhances the filmic universe the work creates. Because it deliberately does not make a point to tie the various short films together (though a few characters do connect in the end), the film is devoid of the disjointed quality inherent in some works by singular directors that contain multiple stories interlocked together by pure coincidence. As such, it comes as close as any film to convincing us that all these diverse characters are really occupying the same city and space.

It does take a little while to get used to the rhythm of the disparate short stories because just when we are about to get used to a few characters and really care about them, the film moves on to another district of the city for the next short. That quality particularly hurts a few vignettes such as Loin du 16 me by Walter Salles and Daniella Thomas, about an immigrant (Catalina Sandino Moreno) who must leave her own baby to baby-sit another from a rich family in order to make a proper living, and Nobuhiro Suwa's Place des Victoires, about a grieving mother played by Juliette Binoche who sees a spiritual vision to help her cope with the loss of her son. We are so absorbed to want to see a whole movie about each of them and we are sad to leave after seeing their respective stories last only about 7-8 minutes.

What is consistent throughout is that every segment has a uniquely beautiful visual look to capture the different facets of Paris, though I think most people will agree that the one directed by Christopher Doyle, a regular cinematographer for many of Wong Kar-Wai's films, is an embarrassment that trades too much on Asian vs. European fashion stereotypes. That also holds true for Gurinder Chadha's piece, Quais de Seines, which may have worked in feature-length if the clash between European and Arabic cultures had been dug deeper but really feels superficial as a short. Other segments are far more satisfying such as the Coen brothers Tuileries, which is a wonderful social comedy of errors about an American tourist (Steve Buscemi) who confirms his social paranoia towards the peculiar behavior of two very oddball French lovers. Another memorable one is Tom Tykwer's Faubourg Saint-Denis, about a blind man (Melchior Beslon) who falls in love with an aspiring actress (Natalie Portman) and realizes how selfishness and narrow mindedness can perhaps lead to inadvertent pain in relationships.

Other resonating ones include Bastille by Isabel Coixet, who, compared to her earlier selfishly cloying feature film, My Life Without Me, writes a more sympathetic story about a man (Sergio Castellito) trying to figure out how to tell his wife (Miranda Richardson) that he is leaving her for his mistress (Leonor Watling), until a gloomy fate strikes. Coixet is certainly able to use her third-person narration far more effectively than in Alexander Payne's disappointing last segment, 14th arrondissement´ about a Denver housewife (Margo Martindale) narrating to herself how she finds solace and peace in Paris. The differences between the two (and several others that do use first-person narration much more effectively) are remarkable in proving that it is better to present the characters actually showing the feelings apart from the narration rather than merely spelling it out in blunt dialogue and thus feeling like an unnecessary coda at the end.

Incidentally, one of the best segments is Tour Eiffel, a love story between two misunderstood mimes (Paul Putner and Yolande Moreau) who obviously don't speak a line of dialogue. The director of this piece, Sylvain Chomet certainly knew how to make endearing the bizarre and the eccentric in The Triplets of Belleville and here, he brings the added bonus of silent comedy seen through unassuming idiosyncrasy. If it is often said that comedians or mimes are crying on the inside while smiling on the outside, this sweet story seems to show that sharing that very same trait can be a source to fall in love, too.

The one that stays with me most, however, is Place de Fetes by Oliver Schmitz, which brings the idea of unrequited love to painful extremes while exposing more of the underbellies of Paris. It is interesting that this tale is the most touching despite that it is the one that depends the most on coincidence in bringing its principal characters played by Seydou Boro and Aissa Maiga together. But when the story goes on to show that a coincidental meeting may be the happiest kind of relief one can find within a despairing fate, it reminds us how much we want to believe that there are no such things as coincidences.

The remaining segments are all solid including Alfonso Cuaron's unbroken, handheld single-take, Parc Monceau, starring Nick Nolte and Ludivine Sagnier as two people whose loving relationship does not reveal its true nature until the very end, and Gus Van Sant's Le Marais, about a French man who reveals to someone that he has found his soul-mate in a language the other does not understand. The most fluidly dialogue-driven one is Quartier Latin by Gerard Depardieu and Frederic Aubertin starring Ben Gazzara and Gena Rowlands as a couple who perhaps waited too long to finalize their divorce because they love each other too much through their pitfalls. Richard LaGrevenese's Pigalle also similarly presents Bob Hoskins and Fanny Ardant as an estranged couple who wonder if their love is too theatrical to be real, albeit this one paradoxically feels more written than acted. There is also one from Olivier Assayas called Quartier des Enfants Rouges with Maggie Gyllenhaal as a drug-addicted American actress who looks for a comforting serendipitous encounter akin to the one in the opening segment, Montmartre by Bruno Podalydes, though the two part ways in finding their respective hopeful or hopeless paths.

Meanwhile, Vincenzo Natali's "Quartier de la Madeleine" creates an eerily fantastical departure from all the other more or less down-to-earth segments, with Elijah Wood as a young man roaming the night and falling in love with a vampire played by Olga Kurylenko. One ironic part in the transition is that Natali's piece is followed directly by the one from Wes Craven, who just as easily could have directed the vampire piece. Craven instead goes for the sublime in a lightly supernatural romantic comedy with Rufus Sewell and Emily Mortimer as an engaged couple that gets some timely advice from the ghost of Oscar Wilde.

What makes the feature, conceived by Tristan Came and Emmanuel Benbihy, a particular must-see for all film-lovers is the opportunity to observe how each director is able to project his or her own themes onto the city of lights. Constructing a short film sets another kind of challenge for a director who normally directs features and having that limited amount of time, I think, forces most of the directors to resort to the issues and styles closest to their hearts. To then see their trademarks grafted onto the genre of romance and see the artists test its conventions is consistently fascinating to watch.

By the time the film is over, we realize that perhaps even the imperfections of the movie and its characters are part of the artistic design. Life is imperfect and the joy and the heartache resulting from love equally serve as truthful indications that we truly care about someone. All we can wish for is to hold on to the things we find memorable, whether bitter or sweet, and Paris, je t'aime likewise offers much to treasure.