Features: Photo Encounters | Forum
FAQ | Disclaimer | 14 visitors online.

Contact Us: Deenan | Lucy | Brenda

Skins: Faces | Raindrops | Spring Clean








FOLLOW A&F ON TWITTER

News Archive: January 2019
Updates:
January 28, 2019
It's somebody's birthday today, but first..

:: If it ain't broke, don't fix it. After the success of Mandy, SpectreVision is working again with Nicolas Cage. He's set to begin filming next month in an adaptation of H.P. Lovecraft's short story, Color out of Space. You can read more about the film here.

:: Voting is taking place for the Fangoria Chainsaw Awards and Mandy is up for six. But hurry, because voting ends tomorrow.

:: Comedy Central's Drunk History's started off their new season right. The premiere was hilarious and I have some screencaps from the program in the Production Stills section. You can watch the uncensored episode on Comedy Central's website, and according to Abby Lyle, make up artist on the show, Elijah is going to appear in a couple more episodes this season, though, no word on what those could be yet.

:: The Hollywood Reporter published a fantastic article on the equally fantastic, Wilfred, which is a must read. This hidden gem that those out of the loop need to watch, is currently airing all four seasons on Hulu, and other various streaming sites.

:: Last but not least, today is Elijah's 38th Birthday! It's been 10 years since the dawning of the Age of Aquarius began on A&F. Wherever he is or what he's doing, I hope it's going to be a great day... though, it's hard to imagine Elijah having a bad day. Click on the birthday boy's photo to check out the artworks, poem, greetings and video submissions from fans.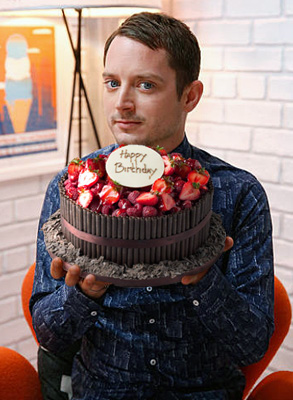 That's all... for now. HAPPY BIRTHDAY ELIJAH!

Deenan
January 14, 2019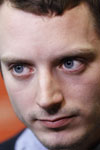 Happy 2019! I hope you had a safe and enjoyable holiday.

:: Drunk History's new season premieres at 10pm tomorrow on Comedy Central. Elijah portrays Percy Shelley, in what will probably be a hilarious retelling of Frankenstein. Check out this promo for the episode.

:: If you're a fan of Drunk History, The Paley Center for Media in Beverly Hills has museum dioramas for each new episode this season. If you don't live anywhere near Beverly Hills, you can still see them in the episodes.

:: I forgot to post this photo from L.A. Rush. Thanks again to Weiming Shen for sending along this cast polaroid board from the set.

:: The second half of Star Wars Resistance began yesterday on the Disney Channel and was promoted that Elijah's character, Jace Rucklin would return, but he spoke less than ten words. Anyway, here's a trailer of what's still to come.

:: Two weeks from today will be Elijah's 38th birthday! If you would like A&F to post and share a personal greeting, poem, artwork, short story or video to help celebrate, please review our Age of Aquarius guidelines.

That's all... for now.

Deenan