Features: Photo Encounters | Forum
FAQ | Disclaimer | 21 visitors online.

Contact Us: Deenan | Lucy | Brenda

Skins: Faces | Raindrops | Spring Clean








FOLLOW A&F ON TWITTER

News Archive: December 2018
Updates:
December 31, 2018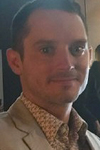 Hope and ye shall receive. Thanks to Weiming Shen for passing these along, here are some behind the scenes photos from the set of L.A. Rush. [1] [2] [3] [4]

:: Weiming was also gracious to translate director/writer, Peng Chen comments on working with Elijah. As an A list actor, he is so professional, so polite and humble, got into acting mode instantly. An actor worthy of all praises... with clear blue eyes, subtle acting craft, sharp like a scalpel and insists on doing stunts himself until exceeded his limit and saying sorry for it. Isn't that just like Elijah?

:: The teaser trailer for the upcoming season of Drunk History has been posted and it looks to be a hoot! A glimpse of Elijah from the first episode can be seen at the :35 mark.

:: Mandy has landed on more top 10 films of the year, this time from Entertainment Weekly, The Film Stage and from Birth.Movies.Death critics Evan Saathoff and Scott Wampler.

:: The film also picked up Best Original Score from the Seattle Film Critics and Best Editing in the Fright Meter Awards. Congrats!

:: Star War Resistance will make a return to the Disney Channel and Elijah's reoccurring character, Jace Rucklin, will be back for retaliation. The new episode will air January 13th.

:: Though it was a relatively conservative year without Elijah appearing in film or television, his voice made a note in two animated TV series, a documentary and video game. However the convention and festival circuit was booming as he attended several to promote SpectreVision productions, Mandy and Transference. But one quiet year leads to a more productive one. We can look forward to his new films Come to Daddy and L.A. Rush and movies from SpectreVision in 2019. Also, next year is very special for Elijah and with any luck, perhaps there will be something in the works at A&F. These past 12 months made for a more traditional year end video. So, click on the graphic below, enjoy and have a...



Deenan
December 16, 2018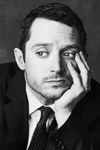 There's an update twice a month and for the first time in a while, there's not much new to report. The past couple of weeks have been quieter than a mime walking in snow.

:: One thing that has come through is that Mandy was nominated for awards from the Chicago Film Critics Association, the Detroit Film Critics Society, and the Hollywood in Music Media Awards for its amazing score by the late Johann Johansson. The Neuchatel International Fantastic Film Festival gave it a nod for Best Feature Film and the Seattle Film Critics will announce their winners tomorrow where the score is nominated there as well. As stated in the last update, a nomination has come from the Film Independent Spirit Awards for the visually stunning cinematography. Congratulations and good luck!

:: The Mandy fan-made video game is complete and now available for download.

:: There was a sinister tweet sent out by Arvind Ethan David, Executive Producer, on Dirk Gently showing this photo of Samuel Barnett with the hash tag new case. My mind runs amok with possibilities!

:: Other than that, I'm working hard on my annual year end video and for the first time in eight years, it's under four minutes. It will be ready to view in the next update and hopefully a bit more news on Elijah will accompany it. Perhaps for his new films, Come to Daddy and L.A. Rush.

That's all... for now.

Deenan