Features: Photo Encounters | Forum
FAQ | Disclaimer | 22 visitors online.

Contact Us: Deenan | Lucy | Brenda

Skins: Faces | Raindrops | Spring Clean








FOLLOW A&F ON TWITTER

News Archive: June 2018
Updates:
June 30, 2018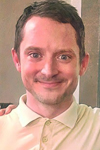 It's been a long time coming but the new trailer for SpectreVision's Mandy is finally out. It looks intense, trippy and the cinematography is bound to keep your eyes fixated. The film is set to hit theaters on September 14th.

:: Before that, the film will screen on closing night at the Fatasia Film Festival in Montreal.

:: Here's an interview with Elijah speaking about video games, including his latest one, 11:11-Memories Retold.

:: We can't get enough of Dirk Gently and you can get your hands on actual costumes and props from the show. There's an online auction at Screenbid where you could rightfully own Dirk's yellow jacket, Susie's crown or even Todd's Mexican Funeral denim jacket and there are plans to add more items! Check them out and bid. The proceeds go in part to Save the Rhino.

:: Lastly, remember the film The Home that Elijah was on board to co-produce and co-star in about 10 years ago? There were big plans with Weta Workshop and Dimension Films to bring this nursing home horror tale to cinemas. But like so many films trying to get made, this one was put on many back burners over the years. The concept is still out there and hopes still remain that one day it will be made. There was a very short film made for it and now we can finally see what it would be like. Looks like a possible SpectreVision production to me!

That's all... for now.

Deenan
June 16, 2018
One minute, all is quiet. Next thing you know.... BOOM! So let's get going. Elijah was a busy guy during the E3 Expo in LA earlier this week. Click on the image below to see a page full of photos from the three day event.





:: Along with the other partners of SpectreVision and developers from Ubisoft, Elijah was at the expo to talk about their new VR game, Transference. Here are some videos:
SpectreVision and Ubisoft Panel
Ubisoft Press Announcement
E3 Coliseum Panel
A sit down interview

:: Just prior to E3, word came of Elijah's participation in another compelling video game titled, 11-11: Memories Retold, that comes out in November. Game developers, Bandai Namco, has a video explaining how the game transpired, and while at E3, Elijah had the chance to speak a bit about his involvement.

:: Before E3 went down, Elijah was in Des Moines to attend Wizard World. Click for pics. Here's a video from the guest's waiting area. Elijah appears around the 5:55 mark. And three more short videos from the Q&A [Video 1] [Video 2] [Video 3]

:: I discovered one video from the Q&A during MegaCon in Orlando, but take your Dramamine. It's a shaky one.

:: Dirk Gently's Holistic Detective Agency is an award winning show. Of the seven categories it landed for the Leo Awards, it won four in the Dramatic Series group. Best Editing, Guest Performance-Male (Lee Majdoub/Silas) and Female (Agam Darshi/Wakti Wapnasi) and Supporting Performance-Female (Emily Tennant/Beast). Congrats to all! Now, how can a beloved, award winning program be cancelled?

:: Seasons 1 and 2 of Dirk Gently is now available on Hulu! Since people enjoyed the artwork I created last year, where the cast and crew sign it, I made another one for season two.

:: SpectreVision's well reviewed film, Mandy, is heading to the Sitges Film Festival in October.

:: And finally, Elijah lent his voice talent to Cartoon Network's Summer Camp Island as a yeti. He can voice just about anything!

That's all... for now.

Deenan