Features: Photo Encounters | Forum
FAQ | Disclaimer | 30 visitors online.

Contact Us: Deenan | Lucy | Brenda

Skins: Faces | Raindrops | Spring Clean








FOLLOW A&F ON TWITTER

News Archive: December 2013
Updates:
December 31, 2013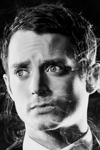 :: It may not be the Oscars or the Golden Globes but Maniac has been nominated in several categories in the Fright Meter Awards, including Best Actor for Elijah's disturbing yet engaging tour de force as Frank.

:: Check out this 30 minute Q&A Elijah gave discussing in more depth about Maniac.

:: As Grand Piano gets set to be released in U.S. theaters in March, a new trailer in English is out for viewing. And while we wait for the film, have a listen to the opening score.

:: Elijah joins the cast who will be dubbing the English-language version of the animated The Wind Rises, Hayao Miyazaki's final film which is set to be released in the U.S. in February. The Japanese fantasy has been nominated and picked up numerous awards and is in the running as Best Foreign Language Film at next month's Golden Globes.

:: Our wallpaper section has been outdated for a long time, so we're adding new ones starting now. I'll be adding one at least once a month and if you'd like to share your wallpaper making skills with others, please email me your work.

:: The big birthday is less than a month away and so is the deadline to submit your birthday wishes, artworks and such to the Age of Aquarius. Don't be shy because you never know who may be watching. :)

:: As 2013 comes to a close, I want to send out thanks to our new and regular contributors, Ambree, Cande, Carol, Jade, Jaramajo, Karin, Lina, Ljuba, Moonagh, Padabee, Patrick, Richard, Serena, Taffy and Teresa. And special thanks to those who either reached out to me, or I to them. Julia from the Kids Wish Network, Ricardo for his exclusive behind the scenes photos from Grand Piano and the wonderful Ron over at Wilfred! Of course, A&F wouldn't exist without the ever fantastic Elijah. It's been a great 2013 and I'm sure he will keep us entertained next year with many projects to come.

That's all for this year. Click on the graphic below to be taken to my video recap of 2013. Enjoy!

Deenan
December 13, 2013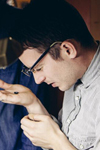 Actor, record and movie producer, now designer! Elijah has lent his "ear" at musical craftsmanship. Along with his deejaying partner Zach Cowie, they have designed custom headphones through Bushmills. Here is a video of them getting the first look of their work. Bushmills is also holding a contest where you can win a pair... if you're old enough to drink. You can also buy them.










:: SpectreVision will be in force at the Sundance Film Festival next month. Elijah's film production company will premiere A Girl Walks Alone At Night. He's pulling double duty as Cooties will also premiere, in which Elijah stars as well as produces.

:: Speaking of Cooties, here are some high res images from the movie. [1] [2] [3]

:: Want to win a signed poster Toad Road?

:: Video games God of War III, the Spyro and LOTR franchises along with films, 9, Happy Feet 1 and 2, not to mention Tron: Uprising and other television series and films. You get the picture. Elijah has landed another voice work gig with the video game Broken Age. Here's some behind the scenes footage and a glimpse of the game. Check out the official site.

:: The well received film Grand Piano will make its way to On Demand and iTunes on January 30th then hits theaters on March 7th! And how about this lovely ad for the movie?

:: Hard to believe it's been 10 years to the date that Elijah hosted Saturday Night Live.

:: Lastly, I received by email a wonderful and touching story of a young girl who had her wish come true when she met Elijah in 2005. You can read about her unique encounter here along with photos.

:: Many thanks to Julia from Kids Wish Network!

That's all....for now.

Deenan