Features: Photo Encounters | Forum
FAQ | Disclaimer | 9 visitors online.

Contact Us: Deenan | Lucy | Brenda

Skins: Faces | Raindrops | Spring Clean








FOLLOW A&F ON TWITTER

News Archive: January 2010
Updates:
January 28, 2010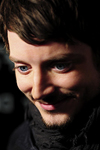 :: HAPPY 29TH BIRTHDAY MR. WOOD!!
Everyone here at A&F would like to wish Elijah a very happy birthday today. May his 29th year be abounding with happiness, good health, laughter, love and success and may this day bring presents and lots of birthday cake! And we have a lot of good stuff in this update to celebrate with!

:: Thanks for your great poems, artworks, videos and greetings for the 2nd annual Age of Aquarius! If you would like to leave a birthday message or read some that have been posted, you can visit our forum.

:: Elijah has been in Park City Utah attending The Sundance Film Festival where The Romantics has its sell out screenings and there are many pics.

:: He was also there to receive his award given by the Creative Coalition. Some photos from the special event are here.

:: Now for some videos. A little interview from Elijah explaining why he's attending Sundance and his hopeful plans while there. Download it.
One along with Katie Holmes talking about making the movie.
MTV spoke with Elijah and Katie about the fun times the cast had while filming the movie. If you look to the right of the page, you'll see seven other short interviews or you can wait for them to play one by one.
Albeit dark, there's a little snippet from the movie.
And lastly, one more discussing the ups and downs of weddings.

Thanks to those who provided what we have of these events so far. I'm sure more and better images will come, so keep an eye on the events page for additions. Thanks Jaramajo, Karin, Overlithe, Patrick, Primswood and Thebelleumiere.

:: Primswood also shares a video interview from the Art of Elysium's Heaven Gala.

:: Here's an amusing video pairing Lord of the Rings fans with Star Wars fans. Thanks for the find Verangel!

:: Musical group The Apples In Stereo is set to release their second CD on Elijah's label Simian Records on April 20th. Here's more information. More groovy tunes awaits!

That's all... for now.



Deenan
January 19, 2010

:: Some teaser pics from this weekend's Art of Elysium's Heaven Gala event. Click to be taken to loads of images. Thanks to Karin, Mata and Patrick.





:: Here's a video of Elijah during the red carpet arrivals.

:: Elijah will be among the honorees to receive the Creative Coalition Spotlight Initiative Award to be given out during the Sundance Film Festival on January 25th. You can read more details about this organization and their purpose here.

:: A bit of casting news. Matt Damon and Brad Pitt have reportedly signed on to lend their voices to Happy Feet 2 in 3D. More about this here.

:: More photos have come from the wing contest Elijah hosted a few weekends ago. Thanks to Not Alone and Karin.

That's all... for now.



Deenan
January 9, 2010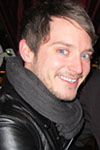 :: Happy New Year! I have a feeling this will be a very busy one, so let's get started.

:: A pic of Elijah back with the band The Apples in Stereo during a recent video shoot.

:: Elijah was host and deejay in New York City at Epstein's Bar for a wing eating contest on Thursday and Karin has found some pics of the event. [1] [2] [3] [4]

:: Here's a photo from the New Years Eve party in Los Angeles from Twitter. Thanks Overlithe.

:: Some unseen photos from years ago on the set of Flipper. [1] [2] [3] [4] [5] [6] Thanks again Karin.

:: Patrick found a video from The Art of Elysium's gala in June 2008 that's newly posted on Youtube.

:: The charity will host their annual black tie Heaven Gala on January 16th in Beverly Hills and Elijah will have deejaying duties. You can read more about the function here and here.

:: Only one week left to submit your entries for The Age of Aquarius, so if you've got something, email it to me at deenan@ejwsites.net. I want to thank all those who have submitted some wonderful things. Again, the items will be posted on Elijah's birthday, January 28th.

That's all... for now.



Deenan