Features: Photo Encounters | Forum
FAQ | Disclaimer | 10 visitors online.

Contact Us: Deenan | Lucy | Brenda

Skins: Faces | Raindrops | Spring Clean








FOLLOW A&F ON TWITTER

News Archive: December 2008
Updates:
December 23, 2008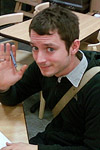 Thanks for holding out so long for a new update. With the holidays, it's been really mad-crazy.

:: Spain's largest box office movie of 2008, The Oxford Murders has been nominated for six Goya awards, which are the equivalent to the Oscars. Among the nods are best film, best adapted screenplay and best director. You may read more about it here. Good Luck!

:: There were a number of thumbnails from a photo shoot in the last update, but thanks to Karin and Mata, larger versions have been found. Thanks ladies!

:: The inset photo was taken of Elijah hanging out in Austin Texas a couple of weeks ago when he attended the two day movie marathon, Butt-Numb-A-Thon found by Karin and also this photo by Autumn de Wilde from the Greg Laswell music video.

:: Entertainment Weekly online conducted a poll and asked readers who they would like to see portray James in the hit film Twilight and Elijah was one of the three choices. Thanks for the article Primula.

:: Karin came across a signed photo of Elijah and some workers when he called them in to help with a little water problem at his home earlier this year.

:: It took most of the year, but the movie review section is complete with the final additions of Paris je t'aime and Radio Flyer. Also, Avalon has been added to the movie stills section.

If this proves to be the last update of the year, on behalf of the moderators and staff of Always & Forever, I want to wish everyone a Merry Christmas, Happy Hanukkah, Happy Kwanzaa, Seasons Greetings and a very Happy New Year!

:: ETA: Once again, an update is done after something new comes along. A very nice holiday gift with the trailer for 9. Thank you Julia.



Deenan
December 3, 2008

:: Not much to report on this time, but Karin has found some larger photos of old photo shoots and a new one.







:: Elijah talks a little more about the film "9" that's due out next September.

:: Remember this pic? Apparently, it was part of a series of photos and Bunnie has found thumbnails of others. [1] [2] [3] [4] [5] [6] [7]

:: A couple more movie reviews have been added with The Oxford Murders and Paradise.

That's all.... for now.



Deenan