Features: Photo Encounters | Forum
FAQ | Disclaimer | 11 visitors online.

Contact Us: Deenan | Lucy | Brenda

Skins: Faces | Raindrops | Spring Clean








FOLLOW A&F ON TWITTER

News Archive: November 2008
Updates:
November 18, 2008


:: New photos of Elijah at the 5th annual Keep A Child Alive's Black Ball on November 15th. Thanks to Mole Caz, Elycia, Mata, Karin and BJTP for the pics!





:: "I think I'd love to do a play and the notion of doing a play scares me." ~Elijah-2005
Well, he's taken another stab at conquering that fear, for Elijah was on stage last night in participation of the 8th annual 24 Hour Plays on Broadway where within one day, six plays were written, directed, rehearsed and performed in front of a live audience. Proceeds of the event benefit Working Playground, an organization that brings arts education into New York City classrooms. You can find photos of the event here. Thank you Karin.

:: Although no "official" announcement has been made about the movie, director or cast, a new digital production facility in Sydney Australia will be developing the sequel to the Oscar winning animated film Happy Feet.

:: Karin has linked us to Elijah's speculation about the possibility of returning to portray Frodo in The Hobbit.

:: She also discovered some new pics of Elijah and crew from Adrenaline Junkie which have been added here.

:: Nora has found a few photos from Elijah's visit to BBC Radio 1 from earlier this year. [1] [2] [3] These have been included with the other pics here.

:: We have some new affiliates to announce. Check out our affiliates page and visit the sites to Orlando Bloom, Jennifer Connelly, Josh Hartnett, Brittany Murphy, Daniel Radcliffe, Christina Ricci, Peter Stormare and Kate Winslet.

That's all... for now.



Deenan
November 10, 2008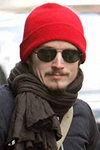 :: The inset photo isn't Elijah bundled up recently, but a photo taken this past February in NYC. This is the first large one I've seen of it and there are a few more where he can be seen with Heloise. [1] [2] [3] [4] Thanks for the find Karin.

:: Elijah, along with the other voice talents for the video game, The Legend of Spyro: Dawn of the Dragon, participated in an interview about making the last installment of the game.

:: According to IMDbPro and Box Office Mojo, the animated film 9, which was slated to be released this December, has pushed back its release to a more marketable date, that being September 9, 2009. That's 9-09-09!

:: Here's a short video shot last year of Elijah and co-star Leonor Watling rehearsing and having a little fun on set of The Oxford Murders. Thanks again Karin!

:: Karin also finds that Elijah and brother Zach are expected to be in attendance at the annual 24 hour movie screening aptly named Butt-Numb-A-Thon given by the same Harry (Ain't It Cool News) Knowles who tipped Elijah to the filming of LOTR.

:: North The Ice Storm and Oliver Twist have been added to the list of movie reviews.
A little personal observation concerning the latter two films mentioned. Both were released in the same year (1997) and evidence of Elijah's wide and versatile acting range can be clearly seen in these two films which are entirely opposite. From the naive bewilderment of Mikey, to the crafty rogue of Dodger. Just my two cents. ;-)

That's all... for now.