Features: Photo Encounters | Forum
FAQ | Disclaimer | 32 visitors online.

Contact Us: Deenan | Lucy | Brenda

Skins: Faces | Raindrops | Spring Clean








FOLLOW A&F ON TWITTER

News Archive: July 2008
Updates:
July 30, 2008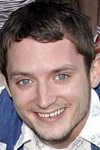 After a couple of days of being out of commission, A&F is back up and running. Seems as if the server's machines were restarted for some reason which led to the site being shut down. Let's hope that doesn't happen again.

:: The inset photo of Elijah is at a petting zoo during The Art of Elysium benefit in Beverly Hills that was reported on in the last update.

:: According to DVD Times, The Oxford Murders will be released in region 2 (Europe) on September 1st.

:: Last week, Elijah was seen at JFK airport, and Beryl was kind enough to share it with us.

"Saw Elijah Wood at the JetBlue terminal Wednesday night at JFK airport. All of the flights had been delayed for 5-10 hours so there were loads of people camping out on the floors of the terminal. I was playing on my computer and when I looked up, I saw Elijah sitting to the left of me. I knew it was him but didn't want to bother his privacy. After 20-30 minutes some people asked if it was really him, and he said yes and held casual conversations with them and even posed for pictures."

These aren't the posed photos, but photos from Beryl of Elijah among the other awaiting passengers. [1] [2] Thank you!

:: An interview with Elijah earlier this year talking about his favorite place to hang-out in NYC.

:: The movie still section has another film added with The War.

That's all... for now.



Deenan
July 20, 2008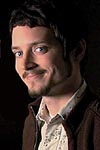 :: Remember this photo? It was actually part of a music video Elijah will be appearing in for singer, Greg Laswell. The song is called How The Day Sounds. Keep a close eye out for Greg's MySpace in case the video shows there or on his website, where you can hear the song. In the meantime, there are a few pics from the shoot. [1] [2] [3] [4]

:: Spike TV aired a program this weekend from Game Trailers.com which previewed much anticipated video games where Elijah talked about the latest version of Legend of Spyro: Dawn of the Dragon, and his favorite game systems. You can see the entire show at the site, but Jaramajo has Elijah's segment for download here. There could be more of this interview later. If that's the case, it will be added to this update.

:: The Apples In Stereo have a signed guitar that's on auction even as I type. Elijah of course has his hands in it by signing it as well, and if you want to take a look or even bid on this one of a kind item, you can here.

:: Ink Gypsy was kind enough to scan a recent People Magazine article that adds Elijah among those actors who grew from boys to (sexy) men.

:: A new set of The Oxford Murders screencaps have been added by Random Fandom to her extensive gallery!

:: A few more photos have been found thanks to Karin from the Coachella Music Festival. [1] [2] [3]

:: She also links us to a heart-warming story along with a precious photo of Elijah by the side of an ailing little girl during a benefit held yesterday in Beverly Hills. The Art of Elysium charity he's earnestly tied to helped to sponsor the event.

:: And lastly, the movie review section grows with the additions of Flipper and Forever Young.

That's all... for now.

ETA: Elijah's... err... I mean Greg Laswell's video is done! Check out his MySpace .

ETA 2: The extended cut of Elijah's interview on Game Trailers is finally up now. Thanks for the heads up Aquila!



Deenan
July 9, 2008

"The monotony and solitude of a quiet life stimulates the creative mind." ~Albert Einstein
That being said, there should be a lot of creativity out there. There's not much to report on, but let's give it a go.

:: There are a few more photos popping up from the recent Elysium benefit. Many thanks to Karin and others for finding them and to those who lent their talents to clean a few of them up.




:: Elijah a do-gooder? You betcha! Here's a link to an interview where he explains why he was involved in the charity and being an all around great guy!

:: Karin links us to a quick video of Elijah chatting to the press about cameras during the event.

:: What's it like to send a fan letter to your favorite celebrity crush? This sweet story tells of one fan experience writing to Elijah during his early years.

:: Casting call! Well, sort of. How would you like to be in The Hobbit as an extra? There could be a chance to win the opportunity to be in the background of the film. Nothing is really set, but you can read about the possibility here.

:: ETA: Meet Blue Snarkle, Elijah's creature for the Spore video game. Remember, you can vote on his creation until July 18th, and if it receives the most, Elijah has chosen Art Of Elysium as his charity to receive $15,000. Thanks for the heads up Karin!

:: And finally, more updates to the movie stills with Flipper and movie reviews, adding The Faculty and outstanding critiques of The Fellowship of the Ring to the list.

That's all... for now.



Deenan