Features: Photo Encounters | Forum
FAQ | Disclaimer | 7 visitors online.

Contact Us: Deenan | Lucy | Brenda

Skins: Faces | Raindrops | Spring Clean








FOLLOW A&F ON TWITTER

News Archive: February 2007
Updates:
February 19, 2007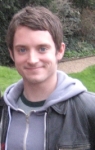 :: Annabelle sent along her awesome recount of being an extra in The Oxford Murders. She managed to meet Elijah and give him a CD of music on behalf of the regulars at the A&F comment box. It's a great read so make sure you take the time of read it (and check out the pictures, of course). [Part 1] [Part 2]
:: Carol was also an extra and sent along some photos she took of Elijah: [1] [2] [3]
:: ms_alis posted a little recount as well, along with a photo.
:: Here are some pics with Elijah from Gogol Bordello's website, courtesy of Karin: [1] [2] [3]



Lucy
February 25, 2007
:: Annabelle has put up the final two parts of her Oxford Murders experience:
[Part 3] [Part 4]
:: Thanks to the lovely salwood you can view Elijah's appearance on Graham Norton on youtube (note: there are 3 parts so make sure you check them all out)
:: Here are some pics of Elijah from outside the Radio 1 studio. Huge thanks to Bunnie for these.














Lucy