Features: Photo Encounters | Forum
FAQ | Disclaimer | 11 visitors online.

Contact Us: Deenan | Lucy | Brenda

Skins: Faces | Raindrops | Spring Clean








FOLLOW A&F ON TWITTER

News Archive: August 2003
Updates:
August 1, 2003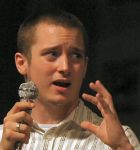 :: I suppose you all know about the ROTK trailer TORn made available. Before you start e-mailing me about it, TORn has taken it down [they didn't leave it up for very long] after newline requested it. Apparantly it'll be released with the Extended TTT DVD
, but for now, here are a few caps ;)
[1] [2] [3] [4] [5] [6] [7] [8] [9] [10] [11] [12] [13] [14]
:: And here are some ROTK stills
:: Just something to add to Autumn's post about Collectormania 4 - Billy Boyd won't be attending. And anyone who is lucky enough to be going.. i want lost of scans when you get back ;)
:: Lots of pics from Dominic and Elijah's appearance on the G-Phoria Awards [most of these are from the Bagendinn] - It will air on G4 on August 8th at 8pm. Thanks to everyone who sent those in.
:: There's a mention of Elijah [and a small Frodo pic] in September's issue of Empire mag (UK): [Thanks Cat]
Q: I read it on Ain't it Cool News that Harry Knowles convinced Elijah Wood to take the role of Frodo on the set of the faculty. is that really true?
A: Did Harry convince him to take the role? I don't Know, but i know that Elijah was interested in doing it. And a friend of mine, George Wang, shot the footage that he ended up sending in. Now Elijah's got bodyguards and stuff. I said, "what happened to you, you can't even walk around anymore" (laughs) He's like the Beatles.
:: Added some more pages of Comic Con pics, including some awesome pics taken by Lilith :)



August 3, 2003
:: Anna sent along a little review from 'Spy Kids' -- Part of the plot of the movie was a quest for "The Guy", kind of a messiah-type figure, who would help save all these kids from mental imprisonment in a video game. Well, at first all the characters thought "The Guy" was Juni Cortez, the boy of the 'Spy Kid' team. But finally, when all the kid characters (there's about 5 of them) arrive at the final level that they have to beat to save themselves and the rest of the world, Elijah appears, portrayed as at least twice as tall as everyone else, (Hooray! Finally, and probably for the first and only time in his life), in a (kinda) flattering video-game-esque uniform, speaking very elegantly and inspirationally about the beauty of working together, and the wonderment of what it will be like to win together, etc, etc. Well, he then proposes to lead all the kids on into the next level, and so he opens the door, walks into a great big room, says, "See? Cake." And then gets zapped by the game, loses 99 lives faster than you can say 'jiminy-cricket', says, "Woops", and vanishes--back into the real world, where we don't see him again. :(
:: Midnight sent me the link to the collectormania site where you might find more info bout Elijah attending.. it doesnt seem to mention Elijah, but it does mention Dom :)
:: Another article from the BBC site.. thanks Carrie!
:: For anyone living near a FYE store.. Kristy sent this along.. There is a store called FYE (Music / DVD store) and they are stocking life size stand up things..of Legolas and Frodo for 20 bucks...and they are giving Gollum action figures that you get when TTT comes out if you reserve it now..
:: Well Elijah definately was in Sydney a couple of weeks ago! Belynda sent this.. a guy i know from work went on for hols up to hang out in sydney with his g/f. AND THEY MET ELIJAH!! his g/f kept saying, when they were in a coffee shop 'that's elijah wood!' To which he kept replying 'no it's not!' But it turns out she was right, and she kept buggin him till he got her an aughtograph for him! So he walks up to Elijah, and says 'Scuse me mate, but can she get your autograph?' And he's like, yeah, sure!' And signs the coaster! He's there for bondi- been surfing he says.
:: Thanks for the news everyone and Get Well Soon Vennie :)



August 7, 2003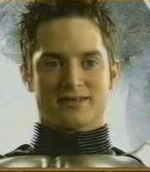 :: Once again, the wonderful bagendinn has taken caps from the 'Spy Kids' preview on ET last week - Thanks to Capotica and Quaxo for sending em along too :)
[Cap 1] [Cap 2] [Cap 3] [Cap 4] [Cap 5] [Cap 6] [Cap 7] [Cap 8] [Cap 9] [Cap 10]
:: Couple of articles sent to me by Capotica.. Article 1 and Article 2 :)
:: Ok, well aparently it IS confirmed that Elijah will attend Collectormania - on their official site it mentions Elijah down the bottom.. Thanks for the news Hobbit Lover.
:: The lovely Rebecca scanned an interview with lij from the most recent Film Review magazine - Thanks girl! [Scan 1] [Scan 2] [Scan 3] [Scan 4] [Scan 5]
:: Hany sent along lotsa pics i've never seen :) [Pic 1] [Pic 2] [Pic 3] [Pic 4] [Pic 5] [Pic 6] [Pic 7] - Thanks Hany!



August 11, 2003
:: Emily sent me different artists impressions of our very own Frodo Baggins.. i thought it was pretty cool! [Frodo 1] [Frodo 2] [Frodo 3] - Thanks Emily! :)
:: A picture of Demi Moore and Elijah - Sorry if you've seen it, i can't recall seeing it.. Thanks to Kaymins04 for that!
:: Vote for FOTR in the 6th Annual DVD Awards - Thanks for the link Capotica!
:: Maureen gave me the links to some interesting and funny articles highlighting dermatology in LOTR :P Thanks! [Article 1] [Article 2] and [Article 3]
:: Liz sent me this.. My name is Liz, and i am starting a book of fan messages for Elijah. I was wondering if there was any way at all you could post a message on your site somewhere telling people that they could e-mail me at Llizzie16@aol.com if they wanted to add a message to the book. My friends and I are making books for many members of the cast of Lord of the Rings, and we are trying to get as much help as possible. We will be seeing the guys at the ROTK premier and will give them the books then.Thanks a lot for your time.
:: For German fans.. For all the people out there in Germany. On Friday the 15th August at 22.15p.m Internal Affairs will be telecasted at Pro Sieben. (That was Elijah's second movie and it's with Richard Gere) Enjoy the movie!! - Thanks Susi! :)



August 14, 2003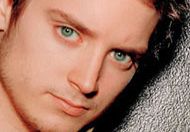 :: Finally updating - yay :) Got lots of new pics, from here and there, mainly from undone, bagendinn and Audrie - [1] [2] [3][4] [5] [6] [7] [8] [9] [10] [11] [12] [13] [14] [15] [15] [16]
:: Celeste [lovely owner of frodoandsam.net] sent me details about a cool fundraiser she's running:
We are raising money to help bring Elijah as a guest to The Gathering of the Fellowship, a Tolkien convention which will take place in Toronto this December. It is rather expensive to pay for the cast members to attend, so the Gathering folks are accepting sponsorships from folks for the cast members, and frodoandsam.net and west-of-the-moon.net are raising the money for Elijah. To raise money we are raffling Sting and an original drawing of the fellowship by a Tolkien artist.
I have a page up about it on my site here: FrodoandSam.net/gathering and here is some info about the Gathering: Tolkiengathering.com
BTW, Celeste has lots of new clips up at her site, so check them out too [after you donate of course ;)]
:: iluvleo from the board posted some pics of her sister's friend partying with Elijah, Dom and Andy at a comic con thing in San Fransisco...[Elijah] [Dom] [Andy] lol, thanks for posting those!
:: Elijah... on national NZ TV with pipecleaners in his ears? yep...[1] [2] - Thankyou so much Dez!
:: Don't know if Autumn or i posted this, but heck, here it is again... an account of Dominic and Elijah playing the ROTK game at comiccon - thanks goes to the bagendinn for finding that [i think]
:: Some pics which Alicia took of Elijah and Dom at Comic Con :) [1] [2] [3] [4] < - - that's her with the boys! :) [5] Thanks Alicia!
:: Some misc pics from Marlen: [1] [2] [3] [4] [5] [6] - Thanks a bunch for scanning those.
:: Not really to do with Elijah, but Michelle sent me this link and i thought it was cute ;)
:: Elijah on TV: Back to the Future 2 is showing on uk tv on sunday at 2.45 - Stef
:: Some info from Elizabeth:
I got to meet the Flaming Lips, and I asked Wayne if Elijah was gonna be in Christmas on Mars, and he said he was interested, but he wasn't sure when they'd be able to do it...but, that he wants him in it...since they're touring right now, it's been pushed back to Xmas 2004, and they can't do much right now...
:: I thik that's enough...i'm far too tired to keep going. Keep sending in your news, it makes our job much easier ;)



August 17, 2003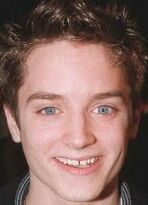 :: Awwwww, poor lij :( looks as if he *might* have recently been in hospital cause of burst appendix.. the bagendinn scanned an article about it from a Tabloid magazine.. it hasn't exactly been confirmed so don't email us about it unless you have articles or anything that confirms this.. *Get Better Soon Lij*
:: New pic i found..
:: Some pics of lij from various lotr premieres and the 'Titanic' premiere ages ago -- Thanks Hany! [Pic 1] [Pic 2] [Pic 3] [Pic 4] [Pic 5] [Pic 6] [Pic 7]
:: Brodie has just recently opened an Elijah Fanlisting and would love it if you joined..
:: I posted a fanbook being made for the hobbits in my last update.. Liz wanted me to post this..
Hey guys. I just wanted to make things a little more clear. At this point in time there are only 4 fan books being made. I am making three sepearate books. One for Elijah, one for Dominic, and one for Billy. If you would like to send a message to Orlando you can e-mail my friend samantha at happygirl322@aol.com When we start the other books i will be happy to let you know. we will be giving them the books at the ROTK premiere. and please don't ask for e-mails, autographs, phone calls, etc. I would like to keep the books as gifts. thanks a lot, sorry about all the confusion. liz
:: TV news from Cecile.. I have a little information for French fans ! Ice Storm will be on TV (on August): Monday 18th, at 8.45 pm . It will be on CINECINEMA Emotion. It will be again : Wednesday 20th (11.10 am), Friday 22nd (2.40 pm), Sunday 24th (0.45), Thursday 28th (3.30 pm).



August 22, 2003
:: ROTK Spoiler alert: The new ROTK posters
are available to buy at the New Line Cinema Store
! They look amazing! Here they are: Frodo - *LOVE* that one! [Buy
], Gollum [Buy
], Gandalf [Buy
], Arwen [Buy
], and of course, Aragorn [Buy
] - All of these are from lordoftherings.net :)
:: lordoftherings.net also posted some comic con pics - [1] [2] [3] [4] [5] [6]
:: Some pics from Efan :) [1] [2] [3]



August 23, 2003
:: Apparently you can already buy the TTT dvd
! (and no, not pirated copies).. I have some very exciting news, for English fans at least (don't know about other countries) TTT seems to have been released 3 days early!! I have a copy of it, and I know my friend got one, I guess this is because of the bank holiday weekend in England (not sure if theres anything similar elsewhere), anyway, thought people might be interested to know - Thanks Helen!
:: Skyler Blue sent me a cute cap from the TTT DVD :)
:: A new scan from the September issue of 'Cosmo Girl' magazine.. Thanks Rebecca! :)
:: TV news from ppl in America.. Sat 23 6:30 AM Radio Flyer 321 SHOCe - Sat 23 9:30 AM Radio Flyer 329 SHOCw - Sun 24 4:00 PM Avalon 91 FLIX - Sun 24 11:40 PM Radio Flyer 342 STZF - Mon 25 4:45 AM Avalon 91 FLIX - Tue 26 6:35 AM Radio Flyer 321 SHOCe - Tue 26 9:35 AM Radio Flyer 329 SHOCw - Thu 28 11:05 AM All I Want 341 STZC - Thu 28 6:20 PM All I Want 341 STZC - Fri 29 6:05 AM Radio Flyer 321 SHOCe - Fri 29 7:35 AM Avalon 91 FLIX - Fri 29 9:05 AM Radio Flyer 329 SHOCw Fri 29 2:00 PM Radio Flyer 321 SHOCe - Fri 29 5:00 PM Radio Flyer 329 SHOCw - Fri 29 8:00 PM Avalon 91 FLIX - Sat 30 6:30 PM The Good Son 80 ENCR - Thanx cgmonkey7
:: This shows the itinerary for Collectormania, like when Elijah and the LOTR cast will be guest speaking.. Thanx Carrie!
:: Elijah will also be doing a voice on 'King of the Hill' - How cool :) Thanks for the news Capotica!



August 28, 2003
:: Hmmm not much news, so this is just gonna be a quick lil update :) Thanks to everyone that's been sending in news!
:: Ok, well Elijah's appendix drama has been annonced on 'Entertainment Tonight' so i guess it's true after all :( poor guy!! Thanks to all those who sent that in!
:: Want ROTK pics? go here - Thanx to Julie and Niki for the link!
:: Elijah sighting on E! Online - Thanks Debra!
:: A Gollum plush doll?!?! - hehe, kinda cute in a way :)
:: Kellie sent in some good news for ppl in Melbourne.. HMV on Bourke Street in Melbourne CBD are selling the Two Towers DVD for $44.99AUD.You get a free 21x25cm Two Towers cardboard poster with the DVD. I would assume that all HMV stores are offering the same thing.There are HMV stores in VIC, NSW & QLD, and you can check for your closest store on the HMV website (www.hmv.com.au)
:: Elijah was on 'E News Live' recently, and his opinion of ROTK is - 'its better than one and two combined, and a lot of people think i'm crazy, but its true.' - Thanks to awyzM for the news! :)
:: And.. from Nefertiri, TV news for German people :) on september the 19th there is Oliver Twist on the german Disneychannel at 18:30 o'clock.