Features: Photo Encounters | Forum
FAQ | Disclaimer | 25 visitors online.

Contact Us: Deenan | Lucy | Brenda

Skins: Faces | Raindrops | Spring Clean








FOLLOW A&F ON TWITTER

News Archive: June 2003
Updates:
June 2, 2003
:: Wow! there's so much news at the moment surpisingly considering there really wasn't any last week..
:: Gina sent me a scan from a mag.. Thanks girl!
:: Another secret scene from the FOTR dvd.. Thanks to KT Wed, Shauna, Skyler, Courtney and everyone else that sent that along :)
On Disc 2 go to Scene Selection screen. Highlight Scene 48 "Official Fan Club Credits". Press down to highlight image of the Two Towers. Press Enter to watch the trailer.
:: Here is a picture signed by Elijah & Liv.. Thanks Carrie!
:: Woohoo! TTT won 4 awards @ the MTV Movie Awards... Here are some pics from the award show.. i know theres tons more out there but i don't have time to post them all at the moment.. [Pic 1] [Pic 2] - Thanx to Sandy and Caldir for those!
:: Some info about when the MTV Awards are gonna air.. Well the MTV movie awards will be airing in the USA on June 5th around 9pm at night. - Thanks Shannon
:: 3 new pics from 'Try 17' - Thanks to the bagendinn & Undone.. [01] [02] [03]
:: Robin sent along an interesting link - this is what she says: Friends in Wellington tell me there is a webcan trained on the Embassy Theatre in Courtenay Place where the world premier of LOTR - ROTK will take place in December. Apparently, there is an absolutely gigantic ring that hangs off the front ot the building but it is currently out being "polished!" - very cool :) Thanks Robin!
:: It seems that LOTR is going to be made into a musical :) you can view more info here and here if your interested. - Thankyou to Merry Morris and everyone who sent in that news!
:: Another poll - go vote for our favourite little guy :) Thanks Midnight!
:: Thanks for the news everyone!! Take care! :)



June 3, 2003
:: I haven't been on in a while, so my e-mail account was blocked yet again [thanks to all those people who keep sending those damn fwd messages] so if you sent me some news, please try sending it again.. thanks
:: TTT won 4 MTV Movie awards:
Best Movie :)
Best Action Sequence
Best On-screen Team for stars Elijah Wood, Sean Astin and digitally-created Gollum
Best Digital Performance for Gollum.
And Autumn is absolutely beautiful! :) She found and uploaded over 60 MTV awards pictures! I had some free time today so i put them all in a lil gallery: Page 1 Page 2 ... Thanks Autumn!
:: Some corrections regarding Elijah's appearance on Primetime Glick:
6/12/2003 800 PM All Times ET/PT: Primetime Glick (ep#307) [cc]
6/14/2003 730 AM All Times ET/PT: Primetime Glick (ep#307) [cc]
All times are Eastern & Pacific, not Mountain & Pacific ... Thanks Jessica
:: The Bagendinn has a new clip of Elijah [6/2] so check that out as well as some other stuff :)



June 5, 2003
:: Just a quick thankyou for The Bagendinn who i got all those MTV pics off :)
:: A pic of Elijah and Mandy i've never seen... - Thanks Marie!
:: Article about the MTV Awards - Thanx Carrie!
:: Justine sent me this picture which i've only ever seen in black & white :) - Thanks girl!!
:: Some caps of lij from the fotr extended dvd.. [Pic 1] [Pic 2] [Pic 3] [Pic 4] [Pic 5] - Thankyou to Tracie- Jo for those :)
:: Vote for Elijah @ the Dolly website as your 'fave guy' :) - Thanks to Ellen and Karen for that..
:: Midnight sent me some more polls... Who is your favourite hobbit? and Who's the cutest rings boy?
:: Some other stuff from Midnight for UK ppl... The MTV Movie Awards air at 9pm on Saturday the 7th of June. and also.. There will be is a little Lij film on in the UK... Avalon - Thursday 5th June, 6.20pm BST (British Summer Time), Sky MovieMax 5
Thanks Midnight! :)
:: A bit of info about Scary Movie 3: Lord of the Brooms - Thanks Aida :D
:: Also from Aida.. check out the 'Spicy Frodo' video on here - it's very cute! :)
:: Some news about a new movie in which Elijah will be voicing a character.. "Feet," a CGI-animated project with musical elements, revolves around Mumble, a young penguin (voiced by Elijah Wood) and his adventures in Antarctica. Brittany Murphy will play Mumble's love interest, Gloria, who bursts into song. - you can check out the whole article here - Thanks to Heidi for that!
:: Some info sent to me about a Bookreading which lij will be doing.. This on-line streaming video program features SAG members reading children's books. The program is made possible by a $100,000 grant from Verizon Foundation, philanthropic arm of Verizon Communications. Storyline Online's 2003 line-up showcases readings by Elijah Wood (Lord Of The Rings), Melissa Gilbert (Little House on the Prairie & SAG President), Esai Morales (NYPD Blue), Bonnie Bartlett & William Daniels (St. Elsewhere) and former Vice President Al Gore. This children's literacy program offers books of various themes by award winning authors. - more info can be viewed here - Thanx Caldir
:: How cool is this bag?! [Pic 1] [Pic 2] - Thankyou Noro, Morgan and TORn..
:: For people with the SIMS.. Erin sent me a couple of links to get some Elijah skins.. Link 1 - (Just browse around a bit) and Link 2...
:: DeVi8tion sends some info about 'Sunshine'.. On Countingdown.com it says Eternal Sunshine of the Spotless Mind will be released on November 14th.
:: G. Arenivar sent us her Elijah encounter :) Thanks! I'm not a hardcore fan of Elijah Wood but I do admire his work. I met him at a show at the Troubadour in Hollywood Saturday 5/31/03 when some friends and I went to check out this band called the Disciples. Very good band by the way. But he was a very nice young fella, took a few pictures with him too.
:: For French Fans, Toopy sent some LOTR related shows airing soon.. Making The Movie Lord Of The Rings Two Towers will air Saturday 07.06.03 12h30 and Sunday 08.06.03 14h00 and.. the MTV MOVIE AWARDS Pre Show, MTV MOVIE AWARDS 2003 and MTV MOVIE AWARDS Post Show will air Thursday 12.06.03 from 21h00, Saturday 14.06.03 from 13h00 and Sunday 15.06.03 from 10h30 - Thanks!! :)
:: Again, thanks for the news everyone!! i really appreciate it!! :)



June 9, 2003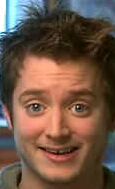 :: I don't think Lucy will be updating this week cos she has exams - good luck girl :)
:: From the bagendinn are 2 new pics of lij while he was filming 'Try Seventeen' (or so i assume).. and you get to see what his writing looks like! :) [Picture 1] [Picture 2]
:: 2 amazing frodo pics from ROTK sent to me by Zerrocool - Thanks! [Pic 1] [Pic 2]
:: A random pic i found..
:: Rebecca sent me some more quizzes... An Elijah Quiz and Some LOTR Quizzes - Thanks!!
:: Hear Elijah read a story here - just click 'me and my cat' on the left hand menu and choose your preferred format to watch it :) Thanks to Dionne, Sammy, Cuina, Maggie, Capotica and Emma for that news! Emma also says.. if you click 'more stories' on the bottom of the left hand column, there is also Sean Aston reading a story called 'A Bad Case of Stripes'. They are both great, and its really sweet when Sean talks about his daughter Ally. - awww, i'm sure it is :)
:: Whynni ever so kindly made some caps from the 'me and my cat' story reading which you can view here - Thanks Whynni!!
:: a scan from 'Sunday Night & Day' magazine... Thanx TORn and Capotica.
:: Amy and Katie sent me some news about a Fan Book they are currently putting together.. This is just to let you know about a new website connected with a LOTR Fan Book, which we are hoping to present to the LOTR cast member[s] who attend the upcoming Collector Mania 4 event in Milton Keynes, England, this coming October. The book is primerily for Elijah, Orlando, Sean, Dom and Billy. - if your interested in being apart of this, visit their website here.
:: If you want The Hobbit to be made into a movie, sign this petition - Thanks Marlene :)
:: Liz and Ali sent me some Elijah news.. Radiohead were playing in NYC on June 5th, and I was reading some reviews online at a few radiohead sites and found out that Elijah Wood was in fact at the Concert at Beacon Theatre. This is what one guy had to say while he was waiting to get into the concert: "As I stood there holding my sign up I saw Elijah Wood waiting around with two aquaintances. Elijah Wood was really nice and he shook my hand not something one might expect from a moviestar." - I havn't seen any pics from this event so if you find any, please send them along!



June 13, 2003
:: Quick lil update to clear out my inbox... Elijah was on Primetime Glick, and the lovely undone has once again made some screencaps: [pic 1] [pic 2] [pic 3] [pic 4] [pic 5] [pic 6] [pic 7] [pic 8] [pic 9] [pic 10] [pic 11] [pic 12] [pic 13]
:: Some news from Nora:
After visiting your site and reading about the Collectormania in Milton Keynes, I rang them up to ask, whether any actors from LOTR will be attending the event. Answer: Yes My next question was: is Elijah Wood going to be there - answer to that one: (quote) "We are not talking to Elijah Wood" (i.e. NO)
:: Anna sent me a link to some really nice custom TTT DVD covers
:: A cool New Zealand site which Becky sent me which takes you on a tour of all the places in NZ where the film was shot. There are interviews with elijah, sean, dom and billy and some good stories about what they got up to :) - Thanks Becky
:: Some MTV awards clips Julia and Bianca sent me: Pre-Show ... Best Movie ... Best Team
:: Some news from Maureen: The G4 network's website says that the episode of its series "Player$" featuring Elijah (episode #207, titled "E3 O3, Playa") will air again on Saturday, June 21 at 3:00 PM Eastern (USA). - Thanks Maureen!
:: BTW... Happy Birthday Niki!!! :) Rzeznik :P



June 15, 2003
:: Some very brand new pics courtesy of Reishin's Live Journal and Lynnie for sending them to me :) [Picture 1] [Picture 2] [Picture 3] [Picture 4] [Picture 5] [Picture 6] [Picture 7] [Picture 8] [Picture 9]
:: Marlene sent me lots of new pics i've never seen before! thanks girl!! :D - [Pic 1] [Pic 2] [Pic 3] [Pic 4]
:: Also from Marlene.. tons of TTT pics here if your interested :)
:: Some caps of Elijah from the MTV Awards made by Justine.. [Cap 1] [Cap 2] [Cap 3] - Thanks!
:: This site has lots of ROTK pics.. Thanks to Camellia for the link!
:: Frodoandsam.net have tons of clips from the MTV awards on their site! view them here - Thanx Jo!
:: According to this article, Boromir will be appearing in the TTT Extended DVD! - how cool! :) Thanks Elyse!
:: For those that might be interested, this DVD has lij's movie 'The Witness' on it :) - Thankyou to Capotica for the link!
:: Also from Capotica... TV Schedule for Elijah for ppl in the USA :)
:: Bad news for French people.. Alex says: Just to rectify some old news, "Ash Wednesday" will not be released on Wednesday 11th June, postponed...snif snif
:: For Belgium fans.. The 2003 MTV Movie Awards will air Saturday 14/06/'03 from 14h00 and Sunday 15/06/'03 from 21h00!!! - Thanks Liz!
:: Kaitlen sent us her little review of lij when he was on 'Glick'.. I watched Elijah on Primetime Glick tonight and it was great. He didn't seem to enjoy it though in the beginning- but there was no new news- the host just sort of played off on past things. He teased him about being homeschooled and thought he was in Lord of the Flies. But still, it was good!
:: Becca sends some news.. on the 8th of this month there were some pics of lij and some others the The Press (a new zealand newspaper). -if anyone has a scan of this, please send it along!!! Thanks! :)



June 19, 2003
:: Lij is back in NZ filming more scenes for ROTK! :) Thanx to everyone that informed me about that!
:: Dede sent along more pictures of her Elijah Haven (a.k.a her house) - [Pic 1] [Pic 2] [Pic 3] [Pic 4] [Pic 5] [Pic 6] [Pic 7] [Pic 8] [Pic 9] - Thanks Dede!! :)
:: How low can a hobbit go? - new article and pic, thanks to Capotica, Kiwi Frodo, Jetmira and Jessie for sending that along!
:: A few things from Carrie.. How cool is this?! :) and also, a new pic - Thanks girl!
:: A couple of various mag scans sent in by Steph - thanks!! [Pic 1] [Pic 2] [Pic 3]
:: Which trilogy movie are you most anticipating? - look for the poll on the right hand side. Thanks to Frodos_girl for the link!
:: Uruviel sent me some scans she scanned of a recent interview 'Movie Magic' did with Elijah... [Scan 1] [Scan 2] [Scan 3] [Scan 4] [Scan 5] - you can view other stuff she's scanned here :)



June 23, 2003
:: Thanks to Undone (for making them), Jetmira, Jessie, Nicole and Marie for sending in the 'Try Seventeen' caps and thanks to anyone else that sent them in that i forgot to mention - i'm very grateful :) I put them on a page here - and a special thanks to Jochen for helping me work out how to put them on a page!! :)
:: Lucy wanted me to post this - they're links to pre-order TTT DVD's: Two Towers - Extended DVD Collector's edition!! and Two Towers - Extended DVD
:: Viewsonic59 sent me some caps made from lij on the 'Caroline Rhea' show - Thanks! :) [Cap 1] [Cap 2] [Cap 3] [Cap 4] [Cap 5] [Cap 6]
:: To those familiar with the cartoon Spongebob Square Pants - how cute is this?! hehe, thanks to Honeyelf for making it! :p
:: Recently, Lucy and I were told that this site was mentioned in the latest 'Movie Magic' mag - if anyone has a scan of the page where it specifically says this, PLEASE sent it along!
:: Also, could DeDe please email me? (yes, the Dede whose pictures i posted in my last update) :) Thanks!



June 29, 2003
:: A ROTK teaser poster has just been released!!
The Lord of the Rings: The Return of the King Teaser Poster featuring Aragorn

Thanks to TORN and Frodos_girl for that :)
:: Also from frodos_girl - a comic con poll you can fill out..
:: Stacey sends some tv news for people in the USA..
G4 TV in the United States will be airing reruns of an episode of their show, Players, in which Elijah is interviewed on the following dates and times according to their web site. :
7/10 - 7:30 PM
7/11 – 5:30 PM
7/13 – 3:00 PM
7/13 – 7:30 PM
:: TTT won a bunch of 'Spacey Awards' that included...
Gollum (Andy Serkis) - Favorite Creature Character
Aragorn (Viggo Mortensen) - Favorite Movie Hero
Best Action Sequence - Helm's Deep Battle
Best Sci-Fi, Fantasy Movie
Thanks to frodos_girl and Hailey for the info!
:: And finally, thanks to all those who sent in the 'Movie Magic' scan that i asked for, i really appreciate it :)