News Archive: September
Updates:
Sunday, 1 September 2002
:: Ahhh.... stupid stupid messageboard!! I just got the damn thing figured out and everyone was posting away happily when the stupid server puts a 3MB limit on it. I deleted all posts older than one day, and i'm still over the limit by like 2.5 MBs, sorry, but i e-mailed them and they said that bascially there was nothing more i could do unless i want to have a messageboard where there is only 1 message. So in short, i deleted over 10,000 posts but it STILL isn't working. I've got better things to do than worry about this. I got an offer from destroythering.com to host a messageboard, maybe I'll take them up on that offer. Sorry about that everyone, i'm as disappointed as you are



Tuesday, 3 September 2002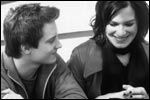 :: Hey! Great news! Jochen very kindly offered to host the messageboard! He's set it all up and fixed everything so it's ready to go! :) It's the same concept as the last one, so it shouldn't be too hard to work out. If you have any problems just e-mail me or Lucy - or Jochen :) And if you're worried about all of your posts that you lost, don't worry, just send a message to Lucy and tell her how many posts you had and you'll get them back :) And yes, the 1500 messages thing is still on... i think. So the new URL is: http://always.ejwsites.net/board/ sign up again, and start posting!! :) Thanks Jochen!!!
:: Well, i've got lotsa pics to post today :)
:: Ok, well firstly Elven (I hope that was your name :)) has sent me a little snippet from 'US Magazine' bout what Elijah likes for breakfast :)... "I drink a lot of coffee. I love breakfast, but I don't get around to it too often. If I do eat, I love eggs Benedict. I love hollandaise sauce. It's good stuff. You can't beat that."
Thanks!
:: Well, here are some of the pictures I got sent... :) [Pic 1] [Pic 2] (Adorable!) [Pic 3] [Pic 4]
Thankyou to Quaxo and Stephanie for those :)
:: Now for some Miscellaneous pictures i've gathered... [Pic 1] [Pic 2] [Pic 3] [Pic 4] [Pic 5] [Pic 6] [Pic 7] [Pic 8] [Pic 9] [Pic 10] [Pic 11] [Pic 12] [Pic 13] [Pic 14] [Pic 15] [Pic 16] [Pic 17]
:: And.. i'm sure you've noticed This picture by now?! :)
:: That's all! Thanks for all the news you guys have sent me :) you're awesome! :)



Saturday, 6 September 2002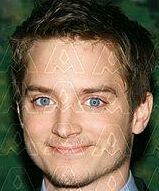 :: Hey! Not too much news today but enough to keep you updated :)
:: Another Elijah sighting from E!Online... Elijah Wood Maria (Aug 31, 2002, 12:38 PM) i saw him at a Starbucks when he and mandy moore were filmimg Try 17 in Vancouver, BC
Thanks Hobbit Angel! :)
:: People in the US... watch the 'Tv Guide' channel because i've had a few emails telling me that there was an interview with Elijah & Sir Ian McKellen talking about LOTR on 'The Screening Room' and i'm told that it should be repeated again :)
Thanks to Amber and Madie for that information!
:: Not sure if you would have seen this or not, but it is from TORn – anyway, this is what it said: LotR:FotR made it into the 2003 Guiness World Records! On page 185 there is a nice half page color photo from the movie of the hobbits brandishing their swords (and looking rather frightened), with caption reading: "Most latex feet made for a single film"- Very Interesting, Very Cool :)
Thanks to Jellybean for that :):)
:: That's all folks! Thanx for all the news :)



Monday, 9 September 2002

:: Just a quick update...
:: A Review of 'Try 17' Here.
Thanks to TORn and to everyone that sent it to Lucy & I :)
:: A new picture Here - sent to me by Hobbit Angel :)
:: That's it! - see I told you it was short ;)



Tuesday, 10 September 2002
:: I realise it's been a week since i've updated, but really there isn't any news. Plus i'm really stressed out at the moment, so i don't have time to deal with Elijah news deprived fans. Sorry, but that's the way it is.
:: Got a cool new award! :)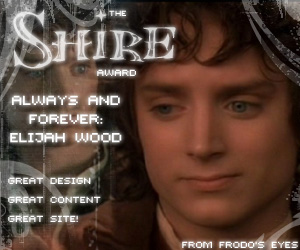 :: Erica sent me this news from VirginMegaMagazine.com
"Hybrid Japanese producer and performer Cornelius (aka Keigo Oyamada) closed out his successful tour of American with a tight, and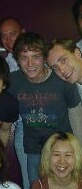 visually stimulating live performance at the El Rey Theatre in Los Angeles on Friday (8/23). Playing to a near capacity crowd, Cornelius, King of the Apes, played with remarkable flair and energy along with precession timed video clips and a tight band that were all dressed in similar white shirts with thin black ties. While having visuals such as paint splattering and water bubbling synchronized to the beats of the music as a captivating companion to the sonically intricate music from his current album, Point, Cornelius and band showed they could rock the house by playing tracks from Fantasma sans video that left the audience applauding wildly. As a bonus surprise during one of the songs, Cornelius pulled up Lord of the Rings actor Elijah Wood out of the audience and guided his hand into playing a melody by the King of Rock 'n' Roll ("Love Me Tender") on the Theramin, a rare electric instrument that is played not by touch but by placing one's hands within a magnetic field. Needless to say the crowd loved it. After spending five years making Point, Cornelius promises that his next album won't be so long in the making. Word on the street has it that he's currently playing around in the studio with Beck ..."
Thanks Erica!
:: I made a quick FAQ the other day, so please, before e-mailing me, read it to see if the question is already answered. Thanks!



Wednesday, 11 September 2002
:: OMG, i just *love* these pictures from wireimage. Their of Elijah at the Toronto Film Festival. They must have just been posted up because i got heaps of e-mails about it overnight (Thanks Andrea, Emily, Michelle, Andy, Siobhan and Lee!). But of course, since they are from wireimage, you know what that means... yep... only thumbnails. But they're sooo good!! So... if you have an account there, find the bigger pics or would like to pay for the pics (if u REALLY want them) then please send me the bigger pics so that i can post them! I'm dying to see them bigger! So check them out! Page 1 | Page 2 | Page 3
:: Also from wireimage, an old photo shoot that Elijah did. [view]



Friday, 13 September 2002

:: I got them!! :) Geez, i don't come on the net for a day and my inbox is already blocked...is that a record? Thankyou so much everyone for sending me the pictures from the Toronto Film Festival! I really really appreciate it. So thanks to (among others) Phoenix, dannii, moryaveiel, Lauretta, Kellie, Frieda, Pamela, Catrine, Lori, Andy, Ani... and anyone else who i forgot (sorry!)
:: I've put all of the pictures on one page: Toronto Pics
:: Also, here's an article scanned by Frieda on the Message Board Thanks!



Saturday, 14 September 2002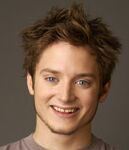 :: I just wanna say thanks to everyone that sent me the Toronto Pictures too :)
:: I do have other Toronto pictures...
:: Justine sent me 2 others... Here and Here...
Thank Justine :)
:: Stacie also sent me a range of other pictures Elijah had taken at the film festival, they are only thumbnails so if anyone finds any bigger ones, email me!
[Pic 1] [Pic 2] [Pic 3] [Pic 4] [Pic 5] [Pic 6] [Pic 7] [Pic 8] [Pic 9] [Pic 10] [Pic 11]
Thanks Stacie :)
:: Amber also sent me an old interview with Elijah done back in 1999 Here. Thanks Amber :)
:: Some Gossip from E!Online Here
Thanks to Anna, Andrea and Madison for that!
:: Naomi sent me a link to a page titled
'Ways to tell you are obsessed with Elijah Wood' - Quite funny :)
:: That tis all! Hope you all have a nice day!



Sunday, 15 September 2002
:: Wanna help out with an Elijah Zine? - Email Melissa
:: Hobbit Angel sent me another Elijah sighting here.
:: She also sent me a picture from E!online here which she captured from her computer screen..
:: Thanx Hobbit Angel!
:: Some pictures i've gathered from here and there.... Pic 1 and Pic 2



Tuesday, 17 September 2002
:: I'm just updating because i'm bored... there isn't really any news. But i added lots of new pictures to the Toronto Gallery. There are like 120 pictures now! :) But please note that some can't be enlarged! So don't bug me about it :)
:: Some really really cool lego scenes. Geez, this guy has a lot of time on his hands. Thanks Nic!
:: Frigida from the Message Board sent me another scan from a newspaper of Elijah in Toronto [view] it came along with this caption:
'Elijah Wood has a glass of wine on the Sassafraz patio. He was a huge fave and approachable, mingling with young fans who approached him at the Four Seasons pick-up window.'
Thanks Frigida!!
:: iluvelijah sent me some pictures which she managed to take of Elijah at Toronto: [pic 1] [pic 2] [pic 3] [pic 4] [pic 5] [pic 6] Thanks girl!
:: Eirien was extremely lucky and got to go to the Toronto Film Festival and saw Elijah Wood there! She also recorded the Q&A with Elijah. Read it here Thanks Eirien!



Friday, 20 September 2002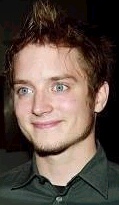 :: Only a quick update for now cause there isn't much Elijah news :)
:: Stacie kindly updated the Elijah tv schedules...
US Schedule - Here
Europe Schedule - Here
:: Lisa tells me that 'Thumbsucker' will be filmed in Portland Oregon, USA in a few weeks time.. Just to let you all know ;)
:: Moew sent me a little bit of news from the Toronto Film Festval about Beauty Treatments, referring to Elijah's goatee..
If it's someone like Elijah Wood, she'll tell the actor he needs to shave. "He sort of has that half-goatee, half-beard thing happening. We called in a stylist from Vidal Sassoon and did a little trimming."
You can view the whole article Here.
Thanks Moew :)



Saturday, 21 September 2002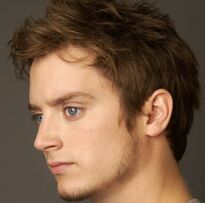 :: Hey Everyone! Just another small update to keep you informed :)
:: Stacie sent me a new picture of Elijah from the 'Burn This' premiere Here from Wireimage, so it is only a thumbnail... :)
Thanks Stacie!
:: I got sent this info from someone about 'Thumbsucker' - thumbsucker- in development stage; Mike Mills has written a screenplay adaptation of Walter Kirn's novel about a boy who sort of overcomes an oral fixation, becomes a Latter-day Saint and goes on a mission; starring Elijah Wood; filming began July 2002. Due out sometime in 2003.
Hmmm... I thought Elijah said that they were going to start filming Thumbsucker in a month or so?!
:: Quaxo sent me in a little thingy about 'Try 17'. Thanks!



Sunday, 22 September 2002

:: Wow! I just got sent this amazing Frodo poster from TTT Here sent to me by Dede and Stephanie! Thanks Guys :)
:: Meaghan tells me that in the Canada there is a regular magazine in the Movie Theatre 'Famous Players'- well in the kids section of the magazine, there is a small picture of Elijah/Frodo and a small description of TTT.
:: People that live in Portland Oregon- this is your lucky day! Marie found a link which she set to me Here which says that Thumbsucker will be filmed in Multnomah County, Portland Oregon :)
I am also being told that Thumsucker will be filmed in the Autumn/Fall.



Monday, 23 September 2002
:: Sorry to break it to you guys but I think most of the information I posted in yesterdays update (Sunday, 22 September) about Thumbsucker is incorrect, I've just gotten an email from Mary, she emailed the Oregon Film and Video Organisation and insure that the information was right and they said that there are no definite plans on when or where they will be filming, the only information known at this stage is that it is going to be filmed in Portland, Oregon. Now i dunno what information is 100% correct, im just informing you all so you don't get too excited at this stage..



Thursday, 26 September 2002

:: Quite a lot of news to get through today :)
:: I've just had about 6 new pictures sent in to me from babieluvejw.. Picture 1 Picture 2 Picture 3 Picture 4 Picture 5 and Picture 6
Thankyou so much!
:: For any Aussies out there, i'm not sure if you'd know now or not but there is a poster of the hobbits when they went surfing in NZ in Big Hit magazine and there is also a tiny picture of Elijah and Franka in there somewhere as well as a photo of the hobbits from the San Diego Comic Con Convention :)
Thanks for the news Aci T!
:: Lily, Moew and Emma sent me the link to the plot of 'Try Seventeen' Here *NOTE* it has MAJOR spoilers... So don't read it if you'd rather it be a surprise ;)
:: Some more picures that i've found.. Picture 1 and Picture 2
:: Malimoo sent me a new picture of Elijah she found here.
Thankyou :)
:: Moew also sent me this little piece of information she got from an Ian McKellen site.. "Home with friends from the cast - only Orlando Bloom, filming 'Ned Kelly' in Australia, was too busy to return, but the rest of us have made it back. Elijah Wood and Liv Tyler look ever so slightly older than 18 months ago and John Rhys-Davies has been losing weight, but make-up and padding will disguise these developments. "- This looks like it might be a bit of older news.. :)



Saturday, 28 September 2002
:: Just a quick update to say that today the site has it's first birthday!! lol, not that any of you would really care, but i'm just surprised that the site has lasted this long. Thanks to all of the visitors and contributers to the site... it would not be open today if it weren't for you :)



Sunday, 29 September 2002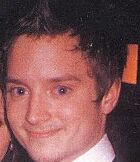 :: Hey! Hmmm lotsa cool pics today...
:: Florence sent me a cool picture Here
:: Ruthie sent me this really really awesome scan from Entertainment Weekly magazine here
:: Babieluvejw sent me heaps of really cool pictures from the Lilth of Sherwood site.. Pic 1 Pic 2 Pic 3 Pic 4 Pic 5
Thanks! :)
:: Marcy sent me this cute picture Here
:: Stacie sent me this picture which was from some sort of 'Try Seventeen' thing at the Toronto Film Festival.
:: Stacie also sent me this article Picasso Film Picks Up Steam from which it mentions Elijah... this is what it said:
Nevertheless this terrific film is due to start production in February. The hunt for an actor to play Albert Einstein is on, but offers are out and a name should pop up in a short time, Schepisi reported. Elijah Wood, meantime, is considering the role.
Thanks Stacie!
:: Daya sent me an article Here which is mainly focused on Franka but has the mention of Elijah.. :)
That is all guys! thanks everyone for the news!! :)



Monday, 30 September 2002
:: WOOHOO!! The new TTT trailer came out yesterday! And it's so good... i'm dying to see The Two Towers!! :) So go and watch it now! It'll be worth the wait! Oh, and see Frodo and Sam? *sob* poor lil guys :(
[Download it on Realplayer from the Official site] or
[Download it on Realplayer from somewhere else] or
[Download it from AOL on realplayer(bigger version)] OR
[Download it on Quicktime (best quality)]
:: Frame-by-frame review of the trailer here
:: You can also download the Entertainment Tonight clip here
:: Got a question you're just itching to ask either Elijah Wood or Orlando Bloom? Well here's ur chance (sort of). CosmoGirl is going to be conducting and interview with them and they're looking for questions to ask them! So sign up at the site and submit your question! Click on the link that says:
Do you have a question that you'd like CG! to ask Orlando Bloom or Elijah Wood? Click HERE to tell us! Good luck!
:: Well i believe that EWFN is going to be shutting down :( man, that sux, i loved that site! Most of the people from EWFN have been joining the Message Board, so we're being invaded! lol, not that that's a bad thing. So if you want to be a moderator for a forum, just e-mail me with your username, number of posts (either on this forum or on the EWFN forum, and which forum/s you'd like to moderate. Good luck :)
:: Ian McKellan speaks about re-shooting in New Zealand here - thanks MoeW!