Features: Photo Encounters | Forum
FAQ | Disclaimer | 26 visitors online.

Contact Us: Deenan | Lucy | Brenda

Skins: Faces | Raindrops | Spring Clean








FOLLOW A&F ON TWITTER

THE GOOD SON (1993)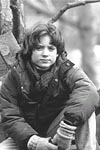 Mark Evans



Macaulay Culkin is not too young to need career advice. It's a triple mistake for him to have appeared in "The Good Son" as Henry Evans, a disturbed and malicious little boy. First of all, this character's brattiness is deeply unappealing. Second, a role as solemn as this one makes it clear that wisecrack-filled comedy is what Mr. Culkin does best. And third, his co-star is Elijah Wood, the second hottest child star of the moment (whose credits include "The Adventures of Huckleberry Finn"), and a fine little actor who is much more comfortable with dramatic material. Although Mr. Culkin has top billing, Mr. Wood serves as the hero of this story.

As directed by Joseph Ruben and written by the novelist Ian McEwan, "The Good Son" has more interesting ambiguity in its title than it does anywhere else. Mark Evans (Mr. Wood) is grief-stricken by the death of his mother and feels somehow responsible for her illness. And then, just after his mother dies, Mark is left behind while his father goes on a two-week business trip to Tokyo.

Mark, who lives in the Southwest, is sent to a snowy New England village to visit his aunt (Wendy Crewson), his uncle (David Morse) and most particularly his cousin Henry. Henry first appears playfully wearing a horror mask, which doesn't leave much doubt about where the story is headed.

Henry operates out of a little shed that has a doll hanging by a noose from its ceiling. But his parents don't seem to have noticed anything peculiar about their boy. And so, during Mark's two-week visit, Henry tries out various menacing and dangerous pranks, like dropping a dummy from a highway overpass just to see how big a traffic accident he can cause. Mark looks understandably horrified. "I feel sorry for you, Mark," Mr. Culkin says solemnly. "You just don't know how to have fun."

When Mark decides that Henry's mother must now replace his own lost mother, Henry's jealousy spins out of control. He does so much damage in a relatively short time that viewers will wonder what he did to keep busy before Mark came along. They will also wonder if Mr. Culkin is doing himself any favors snarling at a vicious dog, trying to drown his little sister (played by his real sister, Quinn Culkin) or delivering the occasional grown-up taunting line of dialogue.

Mr. Ruben is an accomplished visual stylist who often makes actors seem less lifelike than the sets they inhabit. Mr. Wood, wide-eyed and terrified much of the time, gives the only performance that has any urgency. Henry's parents are presented as saccharine and oblivious, which is only partly explained by the fact that they are still mourning the death of another child. Henry's mother, who has not yet put two and two together where that death is concerned, has an unfortunate habit of standing atop a steep cliff to think about the son she lost.

"The Good Son" has a handsome, scenic look that sustains interest, and a suspenseful ending that is quite literally gripping. The film's final scene is one of its few suspenseful and original moments.





********




Based on an original screenplay, the story concerns young Mark (Elijah Wood), who comes to stay with his aunt and uncle and gradually discovers that his cousin Henry (Macaulay Culkin) is psychotic. Despite a few crude philosophical stabs at the nature of evil, the film is basically a straight-ahead melodrama, driven home with force if not finesse by the director of "The Stepfather." Mac is decisively upstaged by Wood, but the film's strongest selling point has to be a cliff-top finale in which the tyke's own mother has to choose whether he'll live or die. A summer camp classic.





********




Although Macaulay Culkin would be the top billed performer, Elijah Wood is the main star, playing Mark Evans, a young boy still suffering from the untimely death of his mother. His father has to go on a two-week business trip out of the country, leaving Mark in the care of his uncle and aunt, the latter still reeling from a family loss of her own youngest son. When Mark meets his uncle's family, he makes fast friends with his same-age cousin Henry (Culkin), although he becomes increasingly concerned about Henry's odd behavior, and soon think that Henry is a danger to other people, including his own family. Mark tries to drop hints about Henry's sociopathic behavior to the adults, but they assume Mark is the one that is unstable, still upset about hs mother's loss, so Mark is forced to fight to keep Henry from doing any more damage all on his own.

Despite the lack of general interest, Culkin was still a red-hot box office draw, and the film did make a decent amount ($44 million), but few were truly feeling any love for the film, especially in seeing cutesy Culkin act like an arrogant crackpot. It also doesn't help matters that Culkin is not a terribly convincing young actor, with co-star Elijah Wood running rings around him in terms of sheer acting skills. One wonders how much more effective the film might have been if the roles were reversed. Then again, even with a potential improvement in the acting, the tired storyline is still a major liability.